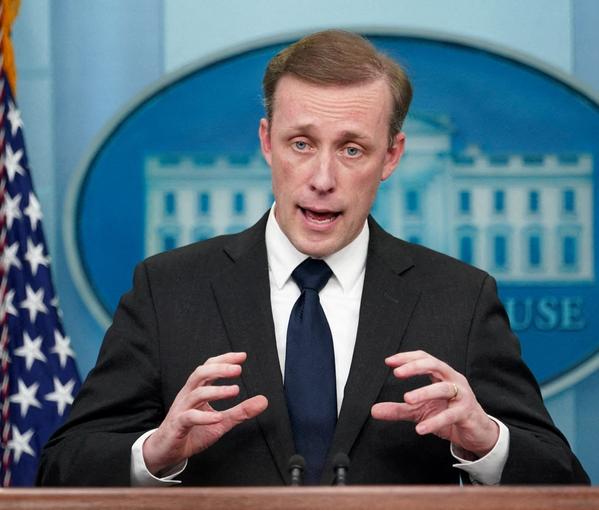 Statements On US Security Advisor's Trip To Saudi Omit Israel, Iran
The overall picture of US National Security Advisor Jake Sullivan's trip to Saudi Arabia and his meeting with Crown Prince Mohammed bin Salman remains somewhat unclear.
Sullivan met bin Salman on Sunday and reviewed what the White House called "significant progress" in Yemen peace efforts, but there was no acknowledgment if the expansion of the Abraham Accords or issues related to Iran were discussed, apart from the Yemen conflict.
A statement released by the White House said the two sides reviewed "significant progress in talks to further consolidate the new 15-month long truce in Yemen."
There have been reports and speculations in recent weeks that the United States has been working to bring Saudi Arabia and Israel closer and expand the Abraham Accords that saw Saudi allies, the United Arab Emirates and Bahrain establish diplomatic relations with the Jewish state in 2020.
A senior Israeli security official said on Friday that Israel was hoping for a breakthrough in efforts to normalize its ties with Saudi Arabia during Sullivan's visit there.
Saudi Crown Prince Mohammed Bin Salman attends the China-Arab summit in Riyadh, Saudi Arabia December 9, 2022.
But the White House statement made no mention of Israel.
Saudi state media did not immediately publish either video or photographs of the meetings.
Saudi Arabia in March reached agreement with Iran to resume diplomatic relations, a deal that was brokered by China and seen as a sign of decline in American influence in the region, particularly with Riyadh.
Sullivan's meeting also came after a period in which US-Saudi ties have been damaged by oil production cuts by Saudi-led OPEC+ and differences over the 2018 killing of Washington Post journalist Jamal Khashoggi.
The Saudi state news report said only that the men reviewed "strategic relations" in a meeting that included other American officials.
Later, Sullivan took part in a meeting with the crown prince and Indian national security adviser Ajit Doval and Sheikh Tahnoon bin Zayed Al Nahyan, the national security adviser of the neighboring United Arab Emirates.
Washington is said to be interested in linking the Arab oil producing countries around the Persian Gulf in a rail network that would ultimately expand trade links with India, perhaps as a counterweight to growing Chinese influence.
A White House statement acknowledged the meetings, saying they aimed to "to advance their shared vision of a more secure and prosperous Middle East region interconnected with India and the world." It did not elaborate.
Sullivan, President Joe Biden's top White House national security aide, also thanked the crown prince for Saudi support to US citizens during evacuation from Sudan, the statement added.
US special envoy Tim Lenderking travelled to Oman and Saudi Arabia earlier this month to seek to advance Yemen peace efforts, the State Department said.
US special envoy for Yemen Tim Lenderking, attends an interview with Reuters in Amman, Jordan April 2, 2022.
A Saudi-led military coalition intervened in Yemen in 2015 after the Iran-aligned Houthis ousted the government from the capital Sanaa.
A Saudi delegation, which is seeking a permanent ceasefire deal to end military involvement in the war, concluded peace talks in mid-April in Sanaa with the Houthi group, whose top negotiator said talks had made progress and further discussions would be held.
Yemen's conflict, which has killed tens of thousands of people and left millions hungry, has widely been seen as a proxy war between Saudi Arabia and Iran.
Based on reporting by Reuters, AP