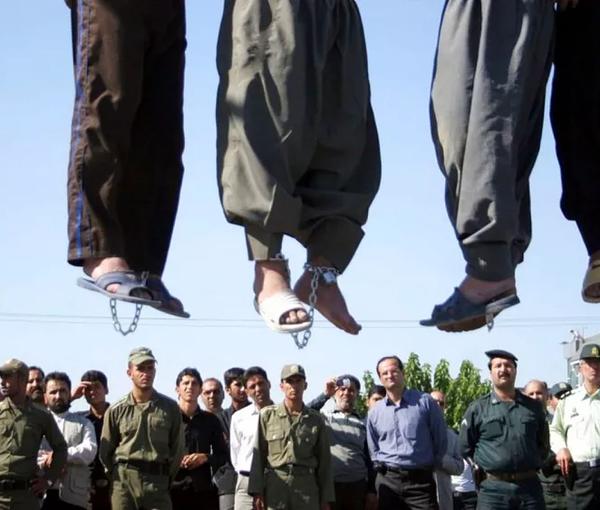 Two Iranians Hanged For 'Blasphemy' As Executions Continue
Two Iranians jailed for insulting religious entities have been hanged as the regime embarks on a killing spree to intimidate people against further protests.
The judiciary claimed Yousef Mehrad and Sadrollah Fazeli-Zare' were running dozens of online anti-religion platforms dedicated to the hatred of Islam, the promotion of atheism and insults to sanctities, however, in earlier reports the charges were mainly related to one Telegram channel.
Mizan, the judiciary's news agency, did not announce when the pair were executed but it was known that they were transferred from their cell in Arak prison in preparation for execution, as is customary in Iran. 
Mizan also claimed they had burnt copies of Islam's holy book, the Quran, and they had confessed to their blasphemy. Their families and rights activists said the confessions were extracted under duress, which has proven to be the case in numerous confessions by the regime.
Mehrad, a father of three, and Fazeli-Zare', the caretaker of his mother, were arrested in May 2020 over blasphemy-related charges after authorities accused them and five others of being members of a Telegram channel titled "Critique of Superstition and Religion." Members of the group reportedly expressed opinions about Islam and its Prophet Muhammad that were deemed insulting by the Islamic Republic.
Mehrad, who was then transferred to Arak Prison from his hometown Ardabil, and Zare' who was moved there after his arrest in the city of Yasouj, were apparently held in solitary confinement for two months and were denied family visits and phone calls, for which they went on hunger strike.

In April 2021, Branch 1 of the Arak Criminal Court sentenced Mehrad and Fazeli-Zare' to death for "insulting Islamic sanctities" and "insulting the Prophet". In June 2021, the Arak Revolutionary Court reportedly sentenced Mehrdad to eight years in prison in a separate criminal case for "propaganda against the state", "founding or leading an organization that aims to disrupt national security", and "insulting the Supreme Leader".
Last week on May 5, the US envoy for Iran Robert Mally voiced worries about the imminent execution.
The news of their execution came a few days after Iran hanged a Swedish-Iranian political activist, sparking global outrage amid fears of further deaths. Habib Chaab, 49, former leader of the Arab Struggle Movement for the Liberation of Ahwaz (ASMLA), was hanged on Saturday morning, weeks after his sentence for "corruption on earth", was confirmed by the judiciary.
The Islamic Republic authorities say Chaab was found guilty of leading ASMLA (Harakat al-Nidal in Arabic), a movement which advocates the separation of southwestern Khuzestan Province and for plotting "numerous bombings and terrorist operations" in the oil-rich province with a large Arabic speaking population.
Separatist activist Habib Chaab (Asyud) (center) during his trial
This weekend it emerged that three Iranian Arab prisoners who have been sentenced to death have now been moved to an unknown location, prompting fears that their execution is also imminent.
In February, the Ahvaz Revolutionary Court sentenced them to death along with three other prisoners on charges of "transferring currency and remittances through a foreign bank, armed attacks, and being associated with a political movement."
Norway-based monitoring group the Iran Human Rights Organization (IHR) said on Saturday that the Islamic Republic has carried out at least 42 executions in the past 10 days alone, or one person every six hours. At least 194 people have been executed this year so far.
States including the UK and EU continue to condemn the use of the death penalty. On Sunday, the British Foreign Minister James Cleverly issued a statement in the wake of Chaab's death saying: "I am appalled at news the Iranian regime executed Swedish-Iranian dual national Habib Chaab. The UK strongly opposes the death penalty. We call on the regime to stop all executions, now. We will continue to work with Sweden and other partners to hold this regime to account."