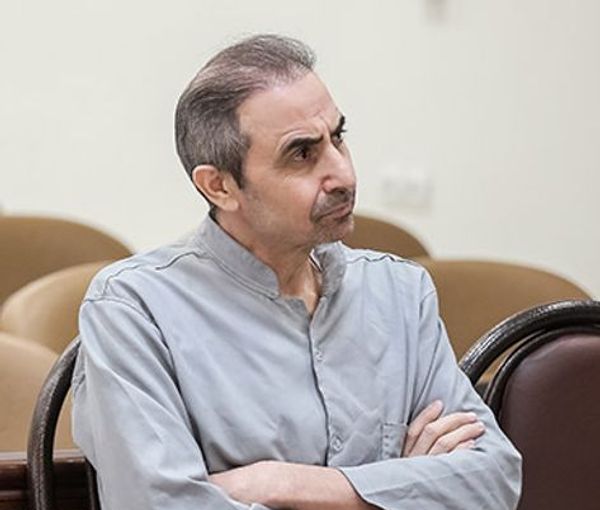 Iran Hangs Former Leader Of Separatist Group, A Swedish Dual National
Iran has executed Iranian-Swedish political activist and former leader of the Arab Struggle Movement for the Liberation of Ahwaz (ASMLA) Habib Chaab (Asyud).
The judiciary said in a statement published by Mizan News, its official news website, that the execution sentence for "corruption on earth" passed on Chaab in 2022 was carried out Saturday morning. The judiciary had announced the confirmation of the death sentence on March 12.
Chaab, 49, was put on trial by a revolutionary court in Tehran in December. He was not allowed to choose his own defense attorney and was represented in his trial by a court-appointed lawyer. He was also forced under duress to make self-incriminating confessions.
Iranian authorities say Chaab was found guilty for leading ASMLA (Harakat al-Nidal in Arabic), a movement which advocates the separation of southwestern Khuzestan Province and for plotting "numerous bombings and terrorist operations" in the oil-rich province with a large Arabic speaking population.
Tehran classifies the ASMLA as a 'terrorist' organization responsible for acts of terror including an attack on a military parade in Ahvaz on September 22, 2018, which killed 25 military and civilians. ASMLA accepted responsibility for the bombing.
Iranian authorities accused Chaab of receiving funding for the operations of the rebel group from Saudi Arabia and claimed that he was "protected" by Israel's Mossad and the Swedish intelligence (SAPO). The prosecution also claimed that other ASMLA leaders are based in other European countries, namely Denmark, Sweden and the Netherlands.
An undated photo of Chaab before his abduction by Iranian intelligence
On March 14 2022, a day after the confirmation of Chaab's death sentence, Sweden summoned Iran's ambassador to the Ministry for Foreign Affairs "to receive Sweden's protest against the death penalty issued against detained Swedish citizen Habib Chaab."
"The Government has demanded that the death penalty not be enforced and recalled the EU's common position, which condemns all use of the death penalty, wherever it is applied. The Ministry has also reiterated its demand for consular access to Mr. Chaab, which Minister for Foreign Affairs Tobias Billström had also previously conveyed to Iran's Minister of Foreign Affairs," the Swedish foreign ministry said in a statement at the time.
Iran's relations with Sweden have been strained since July 2022 when a Swedish court sentenced a former Iranian jailor, Hamid Nouri, to life imprisonment over executions of political prisoners in 1988.
Iran's foreign ministry spokesman Naser Kanani in a statement "strongly condemned" the Swedish court's "politically-motivated and unacceptable" verdict against Nouri, saying the Stockholm government would be responsible for the damage the verdict would cause in bilateral relations.
In November 2020, a few days after ASMLA told Al Arabia that its leader was abducted in Turkey by Iranian security forces during a visit, Iran's intelligence ministry issued a statement confirming that Chaab had been captured outside Iran and taken to Tehran, without mentioning where he was captured.
Ankara said in December 2020, when relations with Iran were tense just after the Nagorno-Karabakh war between Azerbaijan and Armenia, that it had arrested 13 people led by an Iranian for operations including assisting Iranian security forces in the abduction of Chaab in October of the same year on Turkish soil and delivering him to Tehran.
In March, Iran's judiciary said the Revolutionary Court of Ahvaz had sentenced six Arab activists to death for the killing of two Basij militia members, a policeman, and a conscripted soldier in two separate operations. Six others received long prison terms between 5 to 35 years by the same court. The accused belonged to the armed branch of ASMLA, the judiciary said, adding that the sentences could be appealed.