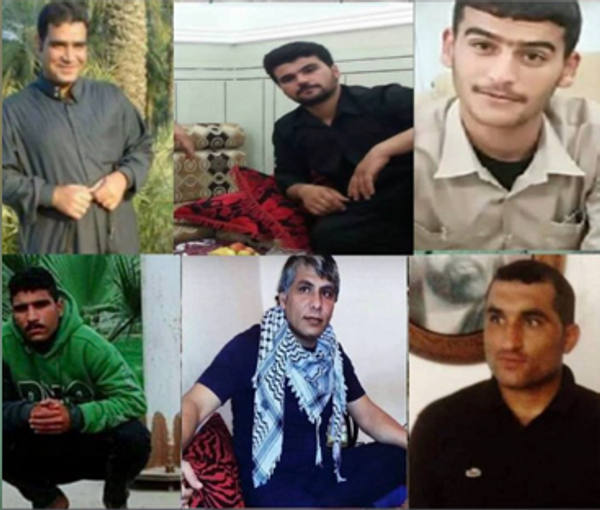 Fears Grow For Imminent Execution Of Three Iranian Arab Prisoners
Three Iranian Arab prisoners who were sentenced to death have been moved to an unknown location, prompting fears that their execution is imminent.
Ali Majdam, Mohammad-Reza Moqaddam and Moin Khanfari have been transferred from Shiban prison in the southern city of Ahvaz to an unknown place, according to one prisoner's family.
Concern that they are soon to be executed without their families having been informed is now growing following the reports of their relocation.
There are also fears about the fate of Habib Darees, Adnan Ghobeishavi and Salem Mousavi, three other Arab prisoners who have been sentenced to death.
In February, the Ahvaz Revolutionary Court sentenced the six prisoners to death on charges of "transferring currency and remittances through a foreign bank, armed attacks, and being associated with a political movement."
A Twitter campaign in support of the Arab political prisoners will be launched on Sunday promoting the hashtag "no to death".
This comes as the execution of Iranian-Swedish political activist Habib Asyud on Saturday has drawn widespread international condemnation.
Asyud, former leader of the Arab Struggle Movement for the Liberation of Ahwaz (ASMLA), had been convicted of leading an Arab separatist group accused of attacks including one on a military parade in 2018 that killed 25 people.
He was sentenced to death for being "corrupt on earth", a capital offence under Iran's strict Islamic laws.
Asyud, 49, was put on trial by a revolutionary court in Tehran in December. He was not allowed to choose his own defense attorney and was represented in his trial by a court-appointed lawyer. He was also forced under duress to make self-incriminating confessions.