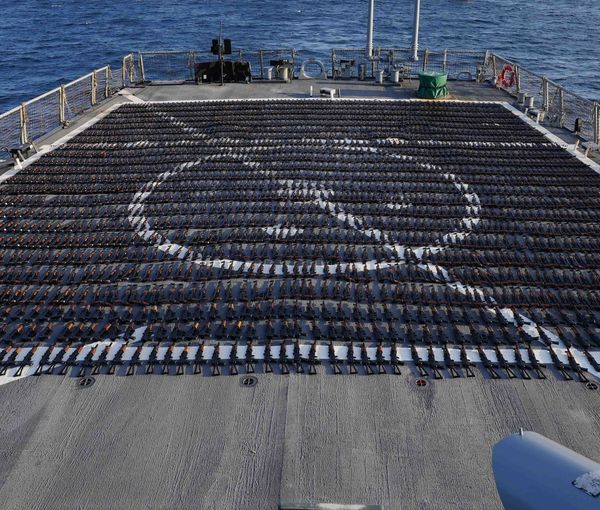 US Navy Intercepts Weapons Shipment To Yemen, Accuses Iran
The US Navy last week intercepted a fishing vessel carrying 2,116 AK-47 assault rifles along a maritime route from Iran to Yemen, the Navy command announced.
Three US vessels were involved in the operation that seized the weapons from the vessel on a historic route used for illicit cargo traffic to the Houthi rebels in Yemen, the Navy statement said. Six Yemenis were on board the boat.
"This shipment is part of a continued pattern of destabilizing activity from Iran," said Vice Adm. Brad Cooper, commander of US Naval Forces Central Command, U.S. 5th Fleet and Combined Maritime Forces. "These threats have our attention. We remain vigilant in detecting any maritime activity that impedes freedom of navigation or compromises regional security."
AK-47s seized by the US Navy from a fishing boat on route to Yemen
The US Navy has intercepted and captured several similar weapons cargos in the area in recent months, headed to Yemen. In early December the 5th fleet announced it had intercepted a fishing trawlersmuggling over 50 tons of ammunition, fuses and propellants for rockets in the Gulf of Oman on its way from Iran to Yemen.
On November 8, US warships intercepted more than 70 tons of ammonium perchlorate, a powerful oxidizer commonly used to make rocket and missile fuel, as well as 100 tons of urea fertilizer.
Arms sales and transfers to the Houthis in Yemen violates UN Security Council Resolution 2216 and international law.
"This shipment is part of a continued pattern of destabilizing activity from Iran," said Vice Adm. Cooper. "These threats have our attention. We remain vigilant in detecting any maritime activity that impedes freedom of navigation or compromises regional security."