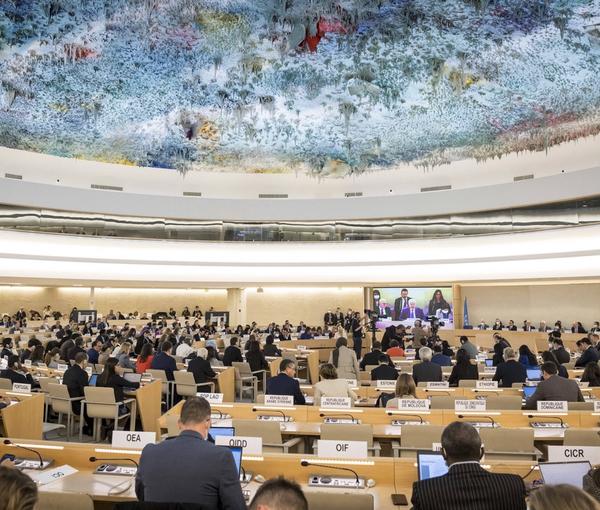 UN Rights Council Votes To Probe Iran's Protest Crackdown
The UN Human Rights Council voted Thursday to launch an independent investigation into Iran's deadly repression of protests, that has killed around 400 civilians.
The motion passed with 25 votes in favor, six opposed and 16 countries abstaining amid cheers of activists amid an intensifying crackdown in Kurdish areas of western Iran over recent days.
The mission will collect evidence into abuses during the authorities' deadly crackdown. Evidence assembled by a mission appointed by the same council was later used for the prosecution of a Syrian ex-officer in Germany who was accused of war crimes.
US Secretary of State Antony Blinken welcomed the vote.
"Today's session leaves no doubt that the HRC's membership recognizes the gravity of the situation in Iran, and the fact-finding mission established today will help ensure that those engaged in the ongoing violent suppression of Iranian people are identified and their actions documented," he said in a statement.
The United States has sanctioned three Iranian security officials over the crackdown.
During his opening remarks, UN High Commissioner for Human Rights Volker Turk provided a review of what has been happening since mid-September, when Mahsa (Jina) Amini was killed in custody of the country's 'morality or hijab police', igniting a nationwide uprising against the regime.
Volker Turk, the newly appointed UN human rights commissioner
The 35th special session of the Human Rights Council was held following an official request submitted on November 11 by Germany and Iceland, as well as the support by over 40 other states.
Turk decried the killing of protesters and lack of accountability for the perpetrators of atrocities. He also expressed concern over "unnecessary and disproportionate" use of force against protesters and the high number of arrests as well as the death sentences handed to protesters.
"The old methods and the fortress mentality of those who wield power simply don't work. In fact, they only aggravate the situation. We are now in a full-fledged human rights crisis," Turk said, adding, "The unnecessary and disproportionate use of force must come to an end. I urge the government and those in power to listen."
He also criticized the Islamic Republic for seeking to delegitimize the protesters and label them as agents of enemies and foreign states, adding that "That's a convenient narrative. As we have seen throughout history, it's the typical narrative of tyranny."
An Iranian man injured by a 'bird shot' fired from a shotgun In September 2022
Javaid Rehman, the Special Rapporteur on the human rights situation in Iran, was next to take the floor and speak about the grim situation. "Structural impunity has fueled widespread patterns of unlawful killings, enforced disappearance, torture and other human rights violations in Iran," he said, urging the council to "establish an independent investigative mechanism on Iran."
"Both president and head of judiciary have emphasized the need to act violently without any leniency to protesters," he emphasized.
Rehman urged Iranian authorities "to stop using the death penalty as a tool for political oppression and release peaceful protesters. We have received reports of torture including sexual abuse. Victims' families face harassment and intimidation," he said.
Tehran's representative called the debate disgraceful and appalling, before talking about the human rights situation in other countries such as women in Yemen, Palestine and even the indigenous people of Canada. She then continued with a list of statistics about the number of women in different professions in Iran such as judges and sport coaches, something that seems untrue to the Iranian people on social media.
Tehran's allies such as Venezuela, Cuba, North Korea and China, sided with the Islamic Republic and expressed their opposition to the session or any resolution against the Islamic Republic.
China tried but failed to pass an amendment to the motion that would have stripped out the main paragraph referring to a new investigative probe into Iran's suppression of mass protests.
The last-minute amendment was rejected with 25 against, six in favor and 15 abstentions.