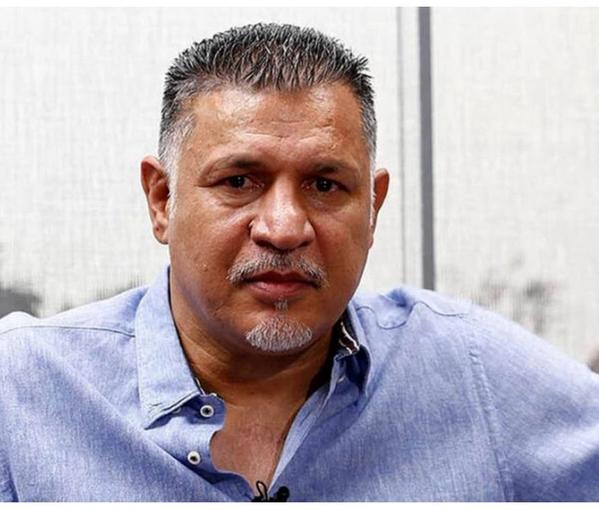 Iran Orders Jetliner To Land To Stop Ex-Footballer's Family
Iran has forced a Dubai-bound Mahan Airlines plane to land in its Kish Island to prevent the family of an outspoken football legend from leaving the country.
Mahan commercial flight 063, carrying Ali Daei's wife and daughter, which had left Tehran airport at 11:15 am local time for Dubai, was grounded by security personnel at Kish airport in a strange and rare act.
Eyewitnesses have told Iran International that the security agents forced Daei's family to disembark saying that they cannot leave the country.
In response to the incident, Daei said, "Today, my wife and daughter legally boarded a plane from Imam Khomeini Airport [in Tehran] to go to Dubai, but the plane was returned from Dubai and landed in Kish to drop off my daughter and wife."
He added that they are not arrested, but if the family was banned from leaving Iran, the police should have told them upon passport check.
Ali Daei is a hero for Iranians as he was an international soccer legend and the captain of the national team from 2000-2006. His record of 109 international goals was broken only 2021 by Cristiano Ronaldo.
"No one has given me an answer. I really don't know what the reason is for such moves. Did they want to arrest a terrorist? My wife and daughter were going to Dubai for a trip and their return flight was on Monday," noted Daei.
An undated photo of Ali Daei and his family
"It's hard to believe! They passed through the passport control and boarded the plane quite legally, but they [security forces] returned so many passengers from Dubai to drop off my wife and daughter. If there was a problem, why didn't they arrest them? If there is no problem, why did they bring them back?" Daei reacted.
However, state-run news agencies Tasnim and ISNA have quoted an "informed source" as saying that Ali Daei's wife had been barred from leaving Iran "because of inviting people to go on nationwide strikes, but she had managed to revoke the ban through an unlawful way."
Daei's wife was barred from traveling to Dubai before leaving Iran upon a Judicial order and a decision by the National Security Council headed by the President, the news agencies claimed.
The Islamic Republic's Judiciary alleges that Daei's wife had previously pledged to inform security organs of her decision to travel abroad in advance. However, once the relevant authorities learned about the flight, the plane carrying her was forced to land in Kish.
It's not clear where the plane has headed after dropping off Daei's wife and daughter – whether it continued to Dubai or flew back to Tehran.
Many other legendary Iranian soccer players such as Ali Karimi, who is abroad and Mahdi Mahdavi-Kia, Karim Bagheri, Ahmad Reza Abedzadeh, and others are supporting the protest movement.
Earlier this month, security forces sealed a jewelry shop and restaurant belonging to Ali Daei after he shut down his businesses to join anti-government strikes.
Daei had also revealed he was threatened after throwing his weight behind the anti-regime protests triggered by the death of Mahsa Amini in mid-September.
The nationwide protests in Iran have continued for 101 days with regime forces killing hundreds of people and detaining thousands of others, including football players and celebrities.
Earlier, Daei decided not to travel to Qatar to attend the World Cup 2022 due to the brutality and deadly force used by the government against unarmed protesters.