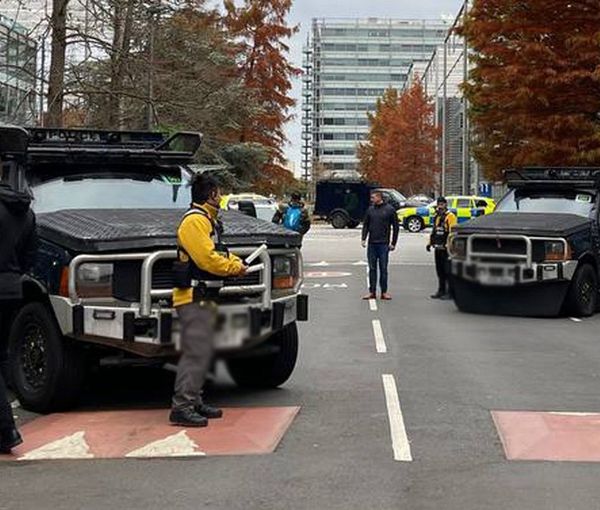 UK Police Positions Armed Vehicles Outside Iran International Building
London's Metropolitan Police has placed armed police forces outside Iran International's headquarters following threats by the Iranian regime against its journalist.
The Times daily national newspaper reported on Saturday that Scotland Yard has positioned armed vehicles in front of the TV channel.
Iran International has confirmed there have been police vehicles at the building but it was "all Met-led and not in response to a request by us".
A spokesman for Iran International has told the Times it was believed the police forces were carrying out a reassurance and deterrence operation.
"We don't know how long the Armed Response Vehicles will be deployed but staff continue to take precautions as previously advised by our security director," he added.
Britain's MI5 said on November 16 that UK authorities have discovered at least 10 "potential threats" since January to "kidnap or even kill British or UK-based individuals perceived as enemies of the regime."
Faced with nationwide antigovernment protests since mid-September, the Islamic Republic has blamed foreign-based Persian broadcasters such as BBC Persian and Iran International of "fomenting unrest", while all media in the country are under tight government control and present protesters as "rioters" and "terrorists".
Iran's Intelligence Minister Esmail Khatib on November 9 said the Islamic Republic regards Iran International as "a terrorist organization," adding that its workers and anyone affiliated with the channel will be pursued by the Ministry of Intelligence.
Iran has a long record of targeting dissidents and independent journalists who found refuge in other countries. Assassinations and kidnappings abroad have been common since the establishment of clerical rule in 1979.
In the latest example of terror operations abroad, Iranian intelligence abducted dissident journalist Ruhollah Zam who was visiting Iraq in 2019 and took him back to Iran where he was executed in 2020.
The scale of the police deployment to protect a media organization is unprecedented in recent years and might be a sign that UK authorities take the threat to Iran International very seriously.
Earlier, Volant Media, the parent company of Iran International, said that two of its journalists had recently been notified of direct threats. It said in a statement the Metropolitan Police have formally notified both journalists that these threats represent an imminent, credible and significant risk to their lives and those of their families.
"Other members of our staff have also been informed directly by the Metropolitan Police of separate threats," read the statement.