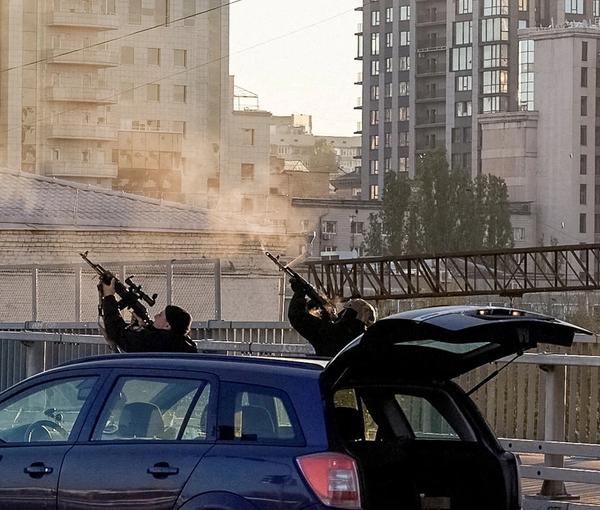 Top Ukraine Official Urges 'Liquidation' Of Iranian Arms Factories
A top Ukrainian official has called for the "liquidation" of Iranian factories making drones and missiles, as well as the arrest of their suppliers.
Writing on Twitter on Saturday, Ukrainian presidential aide Mykhailo Podolyak said Iran "blatantly humiliates the institution of international sanctions", before calling for the destruction of Iranian weapon factories in response.
"Iran, planning to boost missile, drone supplies for Russia, blatantly humiliates the institution of international sanctions… Important to abandon nonworking sanctions, invalid UN resolutions concept, & move to more destructive tools – liquidation of plants, arrest of suppliers…," he tweeted.
Podolyak's statement comes days after Ukrainian President Volodymyr Zelenskyy visited Washington to solidify US military and economic support for his country.
It was not clear if the tough statement by the Ukrainian official meant as a suggestion for the US to undertake the destruction of Iranian drone factories, a feat that would mean a military attack on Iran and possibly a regional war in the Middle East. Israel in recent past targeted Iranian nuclear facilities in large-scale and successful sabotage acts,
Kyiv has accused Tehran of supplying 1700 Shahed-136 loitering munitions to Moscow, which it says have been used to hit targets in Ukraine since September. Iran denies the allegations.
Ukrainian presidential aide Mykhailo Podolyak. November 2, 2022
Kyiv has also accused Tehran of planning to supply more weapons to Russia, including missiles that Moscow needs as its stockpiles dwindle after months of relentless attacks against civilian and military targets.
Western governments have also voiced concern over possible Iranian plans to supply missiles and more weapons to Russia, as the United States and its allies have been sending weapons to Ukraine to turn the tide of the war and not allow to capture more Ukrainian territory.
Ukraine's espionage chief said in an interview released on Friday that Russia had already launched around 540 of the drones at military and energy targets in Ukraine.
The United States and its European allies, as well as the European Union have sanctioned various Iranian individuals and entities for supplying drones to Russia. As the United Kingdom imposed sanctions on Iranian entities December 13, foreign secretary James Cleverly said that the UK sanctions were "taking the wheels off the Russian war machine." A statement issued by the foreign offcie referred to "information" released by the US December 9 - apparently a statement by White House National Security spokesman John Kirby - showing Iran had become "one of Russia's top military backers."
Iran has denied supplying weapons to Russia for its war in Ukraine, but foreign minister Hossein Amir-Abdollahian after earlier denials acknowledged in early November that Tehran had supplied drones to Moscow "months before" the Ukraine war, leaving it vague if these were used in the war.
In a second tweet, Podolyak also mentioned North Korea and Belarus as countries aiding Russia's war effort, saying, "Iran (drones/missiles), North Korea (ammunition/weapons), Belarus (infrastructure/territory/equipment). Factually & legally confirmed allies of RF in the war of aggression, mass murders of civilians & deliberate destruction of Ukrainian cities. There will be joint accountability."