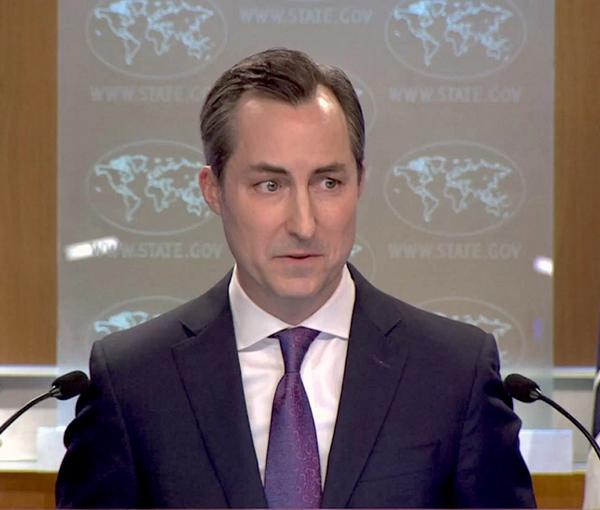 US Rejects Ties To Journalists Who Reported Mahsa Amini's Death
The US has rejected any ties to the two journalists detained in Iran for breaking the news on how Mahsa Amini was killed in police custody.
During a briefing on Tuesday, State Department Spokesperson Matthew Miller said that over the course of the protests that engulfed Iran after the death of the 22-year-old Iranian-Kurd, the regime's authorities have repeatedly violated human rights, punishing people for executing their essential freedoms including protesters and journalists. (sorry but this quote was horrible - nothing to do with you.)
Niloufar Hamedi and Elaheh Mohammadi, the two journalists arrested for publicizing the death of Mahsa Amini, will stand trial as of May 29, according to the Judiciary Spokesman Masoud Setayeshi.
One of the charges against them is collaboration with the United States, which the Islamic Regime deems as a hostile enemy. Rejecting the charges, Miller said: "They are obviously not true."
Iran's Ministry of information and the IRGC Intelligence Organization in a joint statement on October 28 accused Hamedi and Mohammadi of spying for several foreign agencies including the CIA, MI6 and Mossad.
"Sham trials and executions have been key components of the regime's attempt to suppress any form of dissent," the spokesperson stressed.
Miller also expressed worries over the recent escalation of executions by the regime, carried out by what he called "sham trials". According to the UN, over 200 Iranians have been executed since January.
The Islamic Republic has intensified its killing trend in recent weeks, fueling further protests across the country. Amid a spike in executions since late April, on May 19, authorities arbitrarily executed three tortured protesters, Majid Kazemi, Saeed Yaghoubi and Saleh Mirhashemi, who were unjustly convicted and sentenced to death in Esfahan (Isfahan).
On Tuesday, Amnesty International said at least seven individuals in Iran face the death sentence in connection with protests, while dozens of others are at risk of being sentenced to death. At least 259 Iranians have been executed since January alone, according to the United Nations.
The United Nations has called the record "abominable" and "appalling," but at the same time it has appointed Tehran's UN ambassador Ali Bahraini to the chair of the UN Human Rights Council 2023 Social Forum, sparking anger and indignation, in spite of an open investigation underway by the UN into rights abuses in the country.
The rights forum, to be held in Geneva on November 2 and 3, will focus on the contribution of science, technology, and innovation to the promotion of human rights. In contrast, the Islamic Republic has been using technology to crack down on dissent and finding innovative ways to prosecute women who have revolted against its mandatory hijab rules.
Ambassador Michèle Taylor, US Permanent Representative to the United Nations Human Rights Council
Also on Tuesday, US Ambassador to the UN Human Rights Council Michèle Taylor said appointing a country with such a "deplorable human rights record severely undermines the credibility and purpose of both the UN Human Rights Council and the Social Forum."
In a statement, she also referred to the latest report by UN Special Rapporteur on Iran, Javaid Rehman, which he said exposes "the stark reality of widespread human rights abuses in Iran, including state-endorsed violence against women and girls, summary executions of peaceful protestors, and stifling of freedom of expression, suggesting possible crimes against humanity."
Calling upon all UN Human Rights Council member and observer states to prioritize the credibility and integrity of the Council by making decisions that truly embody its principles and values, she called for reforms within the UN's human rights system that ensures "countries that perpetrate serious human rights violations and abuses do not hold positions of leadership."