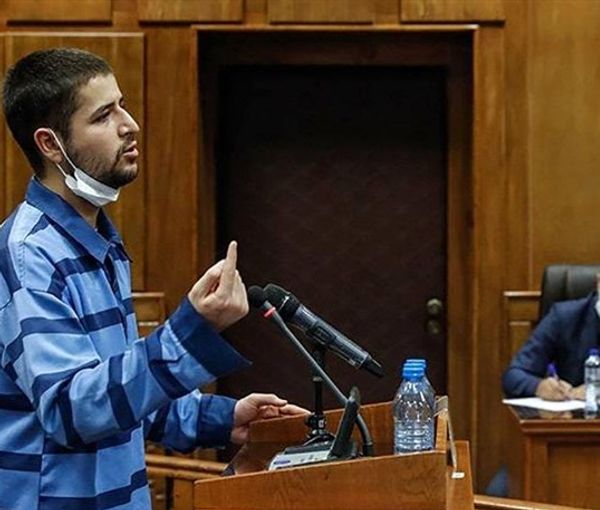 Amid Global Outcry Iran Is About To Execute Another Protester
Amid global outcry over the Islamic Republic's execution spree, which has seen over 200 people hanged this year alone, the regime has finalized the death sentence of another protester.
Amir Raisian, one of the lawyers of Mohammad Ghobalou, said Tuesday that the supreme court has upheld his client's death sentence regardless of the objections and documents that could potentially exonerate him.
The judiciary claims that Ghobadlou "killed an officer and injured several others" by running over them with his car during protests. He was given the death sentence in initial hearings on charges of "corruption on Earth"and "Moharebeh" in a session without the presence of his lawyer. Later, a court in Tehran issued a verdict, sentencing him according to the Islamic criminal code to 'qisas,' or punishment in kind.
Moharebeh (also transliterated as muharebeh) is an Islamic-Arabic term that in the lexicon of the Iranian regime means "fighting God" or "war against God," and carries the death penalty. "Corruption on earth" is also another term that carries the death penalty. 'Qisas' is a Quranic principle similar to "an eye for an eye" or the law of talion.
A hearing session for Mohammad Ghobalou
His lawyer added that the court rejected their appeal, saying that documents issued by the forensic and legal medicine authorities about Ghobalou's mental health, as well as footage of CCTV images, are not related to this stage of the procedure. Raisian said the court did not inform them about the timing of his execution.
Ghobalou's family and his lawyers have published medical documents, proving that he has been under treatment for bipolar disorder for at least seven years.
According to Dadban, a team of volunteers who provide legal advice to activists and protest victims, the circumstances surrounding the death of the police officer – identified as Farid Karimpour Hasanvand – reeks of contradictions, adding that Ghobalou was not involved in any fatal accident. "The forensic report shows that the police officer was killed as a result of being hit on the head by a hard object and definitely in a fight, not an accident," a narrative that had been confirmed by police commanders at the officer's funeral.
Clara Anne Bünger, founder and board member of Equal Rights Beyond Borders, a Greek-German human rights organization enforcing has taken on the political sponsorship of the 22-year-old.
"The EU must ensure that judges like him never find a safe place in the EU," Bünger had said in a tweet.
The Islamic Republic has intensified its killing trend in recent weeks, fueling further protests across the country. Unrest this week followed the hanging of demonstrators Majid Kazemi, Saeed Yaghoubi and Saleh Mirhashemi on May 19.
The deaths brought to at least seven the number of protesters hanged since nationwide protests broke out in September 2022 following the death in custody of 22-year-old Mahsa Amini. The unrest posed the biggest internal challenge to the Islamic Republic since its establishment in 1979.
Also on Tuesday, Amnesty International said at least seven individuals in Iran face the death sentence in connection with protests, while dozens of others are at risk of being sentenced to death.
"The authorities have violated their fair trial rights and subjected many to torture and other ill-treatment, including floggings, electric shocks, death threats and sexual violence," the human rights group added.
In a letter to Iran's chief justice Gholamhossein Mohseni-Ejei, Amnesty said, "On 19 May, authorities arbitrarily executed Majid Kazemi, Saleh Mirhashemi and Saeed Yaghoubi, who were unjustly convicted and sentenced to death in a trial that relied on torture-tainted 'confessions' and which bore no resemblance to meaningful judicial proceedings."
So far, around 500 civilians have been killed by security forces and at least 20,000 arrested. While many have been released, around 1,500 face criminal charges, and at least 80 detainees face the death sentence.
According to unconfirmed reports, at least 10 underage protesters are also facing death sentences for the "moharebeh" and "corruption on earth".