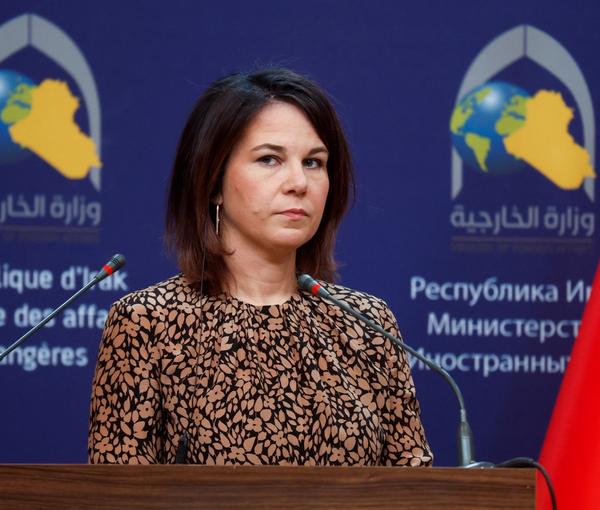 In Iraq, German FM Condemns Iran's Cross-Border Attacks
Iranian missile attacks across the Iraqi border are unacceptable and put regional stability at risk, German Foreign Minister Annalena Baerbock said on a visit to the Iraqi capital.
"With its missile attacks, the Iranian regime shows not only that it recklessly and brutally suppresses its own people, it also puts human life and the stability of the whole region at risk to hold on to power," she said on Tuesday.
"It is unacceptable and dangerous for the whole region," she told a news conference with her Iraqi counterpart.
Last year, Tehran fired missiles at bases of Kurdish groups in northern Iraq it accuses of involvement in popular protests against its restrictions on women, displacing hundreds of Iranian Kurds and killing some.
Iran has for years refuted Western claims it is a destabilizing influence in the region. Tehran, faced with its biggest anti-regime protests in 44 years, has accused Western countries of orchestrating unrest and has accused protesters in ethnic minority regions of working on behalf of separatist groups.
Baerbock, visiting Iraq on the same day as US Defense Secretary Lloyd Austin, said she was sending a signal that Europe's biggest economy wanted deeper cooperation with Iraq.
She said she would discuss Iraq's security and stability, the question of Yazidis, and cooperation on climate change.
Germany, and some other European countries, have adopted a tougher line toward Iran's suppression of protesters since antigovernment unrest began last September. So far, government forces have killed more than 500 civilians.
With reporting by Reuters