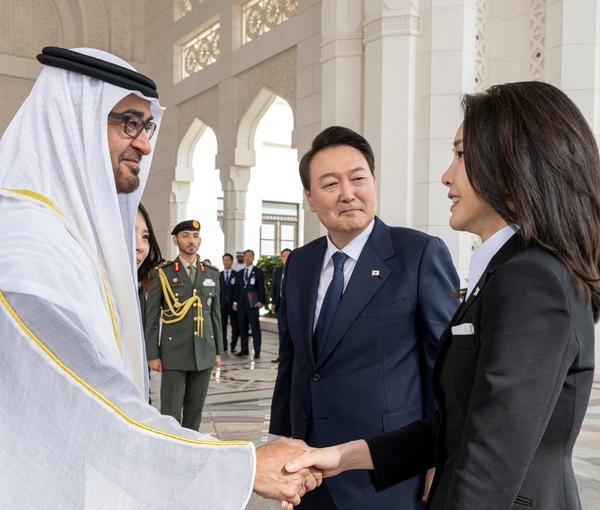 Iran, South Korea Summon Ambassadors Over 'Enemy' Remarks
Tehran and Seoul have summoned each other's ambassadors over President Yoon Suk-yeol's comment that the Islamic Republic is the enemy of the United Arab Emirates (UAE).
Yoon, speaking with South Korean troops stationed in Abu Dhabi early this week, said South Korea and the UAE are under "very similar" circumstances, each facing North Korea and Iran as "the enemy, biggest threat."
His remarks prompted a rare spat between Seoul and Tehran, at a time when relations have already been testy over frozen Iranian funds in South Korea and suspected arms dealings between Iran and North Korea.
Iran's deputy foreign minister on legal affairs, Reza Najafi, summoned Yun Kang-hyeon, the South Korean ambassador on Wednesday to protest against Yoon's "interventionist remarks," the official IRNA news agency said.
Najafi "pointed to the deep-rooted and friendly relations of the Islamic Republic of Iran with most of the Persian Gulf countries," IRNA said, describing Yoon's comment as "interfering" and "undermining peace and stability in the region."
South Korea's foreign ministry retaliated on Thursday by calling in Iran's ambassador to Seoul to explain President Yoon Suk Yeol's remarks as words of "encouragement" to the troops.
The incident came after a similar unfriendly gesture by China's President XI Jinping in December during his visit to Saudi Arabia. After he met with the Gulf Cooperation Council, a joint statement was issued in which China endorsed UAE's claims on three Iranian islands in the Persian Gulf.
This led to serious controversy in Iran, where critics slammed the government for its weakness to allow China, which is touted as an ally, to support an anti-Iranian resolution.
A similar situation emerged with Shia-dominated Iraq, where the prime minister used the term "Arabian Gulf" for the Persian Gulf angering Iranians.
The cumulative impact of these incidents, pundits in Iran argued, shows Tehran's growing isolation and loss of diplomatic leverage.
Yoon's office said his comment was meant to encourage the soldiers. Seoul's foreign ministry said on Tuesday it has offered explanations to Tehran and its commitment to developing bilateral ties remains unchanged.
Opposition lawmakers slammed the incident as a "diplomatic disaster," and some members of Yoon's own party also said he should have been more careful.
Najafi also accused South Korea of pursuing an "unfriendly approach" toward Iran, singling out its frozen funds.
"South Korea's failure to take effective action to solve the mentioned problems would lead Iran to review its relations," Najafi said, according to IRNA.
Iran has repeatedly demanded the release of some $7 billion of its funds frozen in South Korean banks under US sanctions.
Washington re-imposed sanctions on Tehran in 2018 after then President Donald Trump pulled out from Iran's 2015 nuclear accord with six major powers, under which it agreed to curb its nuclear programmes in return for UN-imposed sanctions relief.
South Korea was once one of Iran's biggest crude buyers in Asia, and both sides have been in talks over ways to unfreeze the funds and resume oil trade, after negotiations to revive the 2015 deal kicked off in 2021. However, the talks stalled in September and meanwhile tensions grew between Iran and Western powers over its deadly crackdown on protesters and delivery of killer drones to Russia.
With reporting by Reuters