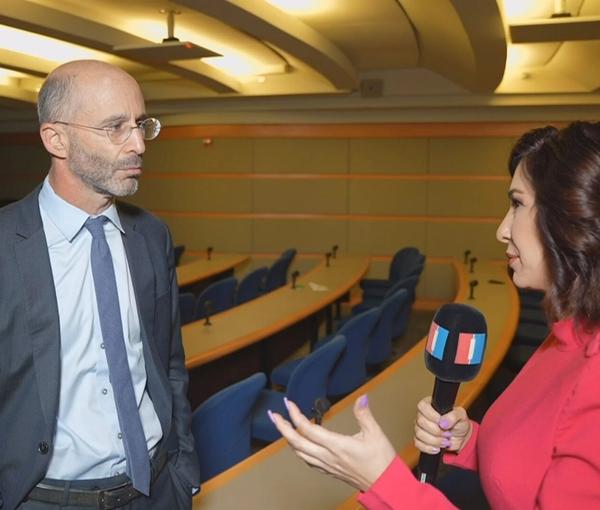 Exclusive: US Envoy Malley Met With Iran's UN Ambassador
US State Department has not denied information by Iran International that US envoy Robert Malley held meetings in New York with Tehran's UN ambassador recently.
In response to questions, the State Department did confirm that messages are being delivered to the Islamic Republic of Iran, even though the nuclear deal, JCPOA, "is not on the agenda."
In response to questions submitted by Iran International on January 17, State Department spokesperson Ned Price said, "We have the means to deliver specific and firm messages to Iran when it is in America's interest to do so."
Iran International had asked the DoS that according to information it obtained, US Special Representative for Iran Robert Malley met with Iran's ambassador to the United Nations in New York, Saeed Iravani, "at least three times in the last two months."
"But we're not going to get into details about how we deliver these messages, except to say that we do so in close coordination with allies and partners."
In its response, the DoS did not deny or confirm Malley's possible meetings with Tehran's envoy but underlined that the US has its channels to communicate messages to the Iranian side.
Iran International followed up with the specific question to the State Department on January 18, "Just to confirm that you are not denying that meetings between Mr. Iravani and Mr. Malley took place in recent months in NY."
A second response received from a spokesperson repeated that "As we have said, we have the means to deliver messages to Iran when it is in our interest to do so."
Saeed Iravani, Iran's ambassador to the United Nations in New York
"I am not going to get into details about how we deliver these messages, but we do so in close coordination with allies and partners and make no apologies for delivering them firmly and consistently," the spokesman responded.
Regarding the content of these messages, spokesperson Ned Price, in the first response on January 17, said, "We have consistently conveyed three messages: stop killing peaceful protesters, stop selling weapons to Russia to kill Ukrainians, and release the Americans you've wrongfully detained. We also use any available opportunity to make clear that we will take necessary steps to protect American citizens."
If Malley did meet Iravani face-to-face, it would be the first reported direct meeting between US and Iranian diplomats since the Biden administration assumed office and offered talks to revive the JCPOA. Iran has consistently refused direct talks with the United States.
If any indirect talks took place between Malley and Iravani, for example, through European diplomats, the State Department chose not to specify it, except saying that Washington has the means to deliver messages to Tehran.
Asked to comment on the news, Richard Goldberg of the Washington thinktank FDD and the Director for Countering Iranian Weapons of Mass Destruction for the White House National Security Council from 2019-2020, said, "A secret backdoor betrayal of the Iranian people at this moment should be condemned by all Americans. Congress should investigate these reports thoroughly and anyone involved should be compelled to testify."
Tehran's deadly suppression of protests since mid-September and its delivery of kamikaze drones to Russia, being used to attack Ukrainian civilian infrastructure, have heightened tensions between the Islamic Republic and Western powers. Also, 18 months of talks to restore the 2015 nuclear accord reached a deadlock right before protests broke out in Iran.
European countries and institutions are debating about listing the Revolutionary Guard as a terrorist organization, which would further reduce the chances of any foreseeable improvement in relations.
While Iran can free some of the thousands of detained prisoners, the ongoing violations of human rights both inside and outside the prisons are so widespread, that the whole security and judicial system must be overhauled before any meaningful change takes place.
In addition, Iran is not expected to end its close military and other types of cooperation with Russia, to satisfy Western demands before any nuclear talks can be resumed.