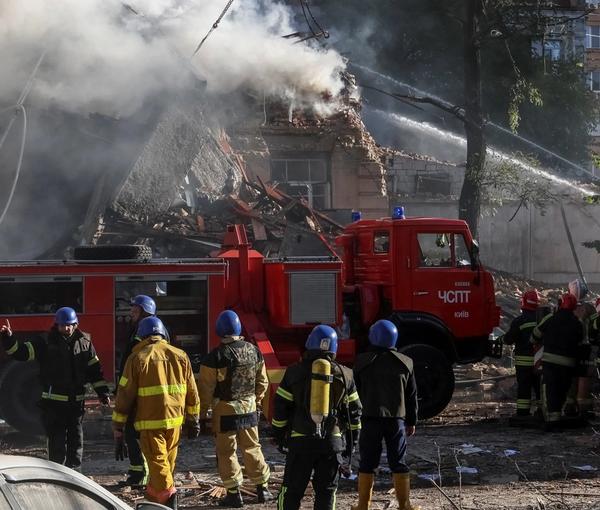 Drones, Protests, JCPOA, Israel: US Faces 'Complex' Iran
Ned Price, US foreign affairs spokesman, has called Iran "one of the most complex challenges we face" and reiterated the 2015 nuclear deal is off the US agenda.
Speaking to the press Wednesday, Price, the State Department spokesman, said the United States had "no reason to put any stock or faith into the statements" made recently by Iranian officials that they were keen to resume talks over reviving the 2015 agreement, the JCPOA (Joint Comprehensive Plan of Action).
"There was a deal to mutually return to the JCPOA that was on the table that was approved by all parties" in September, Price said. "That ultimately went nowhere only because the Iranians weren't prepared to accept it…The JCPOA hasn't been on the agenda for some months now.
"There is no denying that Iran presents one of the most complex challenges we face… Its nuclear program has been the focus of successive administrations. Its malign activities throughout the Middle East and in some cases potentially even beyond has been the focus of successive administrations…And now what it is doing to its own people – the repression……[and] the security assistance that it's providing to Russia – all of these…. represent…one of the most difficult challenges we face."
While failure to agree JCPOA restoration in either year-long multilateral talks in Vienna or subsequent bilateral US-Iran contacts reflected gaps between Iran and the US over JCPOA restoration, Price's reference to complexities reflects new complications.
'On the agenda, but not on the table'
Firstly, Iran's supply of military drones to Russia has shifted the approach of the three European JCPOA signatories, France, Germany, and the United Kingdom. While the European Union foreign policy chief Joseph Borrell has continued diplomatic efforts with Iran, meeting Foreign Minister Hossein Amir-Abdollahian in Amman in December, European officials have intimated that Iran's involvement with Russia precludes JCPOA revival.
Iran's foreign minister Amir-Abdollahian meeting his Russian counterpart Lavrov in Moscow on March 15, 2022
Europe long held to the JCPOA logic of separating Iran's nuclear program from other issues, but it has agreed with the US that the drones supply – even if, as Iran says, before the February outbreak of the latest Ukraine hostilities – violates a JCPOA clause restricting Iran trading certain categories of arms.
European states have joined the US in levying new sanctions against Iran over both the drones and Tehran's response to recent unrest. Hossein Mousavian, former Iranian Deputy Foreign Minister and nuclear negotiator, told Al-Monitor this meant the JCPOA was now "on the agenda but not on the table."
Mousavian said the "Europeans are playing a more active role to create an international consensus against Iran, more because of the Ukraine issue…[and] compared to the US…[had] become 'more Catholic than the Pope' in advancing hostile policies against Iran."
A second complication is the return to office in Israel of Benjamin Netanyahu with a coalition including ultra-Zionists, which has created a new challenge for Washington. While Netanyahu, who has for decades portrayed Iran as on the threshold of a nuclear weapon, is playing up his warm relationship with President Joe Biden, there are clear US nerves.
'Security and stability'
A Pentagon read-out of the first telephone call, late Wednesday, between US Defense Secretary Lloyd Austin and new Israeli counterpart Yoav Gallant featured Austin warning Israel not to "undermine security and stability in the West Bank," a reference to speeding up Jewish settlements in occupied Palestinian land.
The US read-out referred to agreement "on the need to work together to address…regional challenges, including threats posed by Iran's destabilizing activities," while the Israeli defense department statement said Gallant had "emphasized in the conversation Israel's commitment to do whatever it takes to prevent Iran from obtaining nuclear weapons..."
Something similar happened with Monday's call between Antony Blinken, US Secretary of State, and Eli Cohen, the Israeli foreign minister. A right-wing Israeli newspaper cited sources that Blinken had proclaimed the JCPOA dead. The US read-out of the call made no mention of this, and a US official subsequently denied it.
Security analysts have also discussed whether growing US-Israel military co-operation, highlighted this week by joint air drills, makes an attack on Iran more likely or is rather a means to rein in a Netanyahu-led Israel.