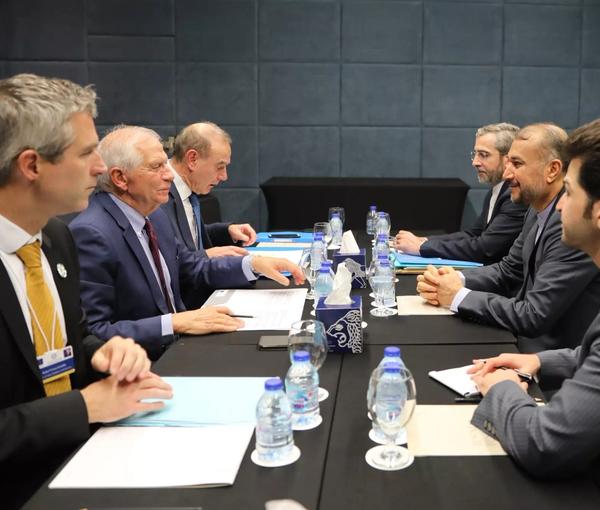 Does Biden Calling Iran Nuclear Deal Dead Reveal Real US Thinking?
A video of United States President Joe Biden saying the 2015 Iran nuclear deal is "dead" jars with US policy as reiterated recently by leading officials.
In the video clip, posted to social media Tuesday, shows Biden apparently at a campaign walk-about during November's Congressional elections. Asked about the 2015 agreement, the JCPOA (Joint Comprehensive Plan of Action), the president clearly replies: "It is dead, but we're not going to announce it."
This is for "a lot of reasons," Biden says. Replying to an apparently Iranian woman asking him about "mullahs," he says he is aware the Iranian government "don't represent you," but he adds that if they acquire atomic weapons they will represent a nuclear Iran .
Formal diplomatic efforts to revive the JCPOA, from which President Donald Trump withdrew the US in 2018, have been suspended since late summer. US officials have said JCPOA revival is no longer their "focus," and Iran envoy Rob Malley in a recent Foreign Policy magazine interview recognized "a series of vicious cycles" in which US sanctions triggered Iran to expand its nuclear program.
But, contrary to what Biden says in the video, US officials have continued to say they want to restore the agreement as the best way to cut off any Iranian path to a nuclear weapon.
Europe: 'Continue engagement to revive deal'
A week after Josep Borrell said "we have to continue engaging as much as possible in trying to revive this deal," the European Union foreign policy chief met Tuesday in Jordan with Iran's Foreign minister Hossein Amir-Abdollahian and chief nuclear negotiator Ali Bagheri Kani. The meeting was at a conference sponsored by France and Iraq aimed at reducing regional tensions. "Necessary meeting…amidst deteriorating Iran-EU relations," Borrell tweeted.
The European signatories of the JCPOA – France, Germany, and the United Kingdom – criticized the US leaving the 2015 agreement and imposing 'maximum pressure' sanctions. But the Biden administration has improved relations with Europe, including by in 2021 joining talks to revive the JCPOA. Contrary to China and Russia, the Europeans have blamed Tehran for failure to bridge US-Iran gaps, as Washington continues sanctions and Tehran seeks 'guarantees' to cushion its economy and nuclear program against another US withdrawal. A statement from France, Germany, and the UK issued Monday said Iran had made "unacceptable demands."
The Ukraine crisis, and media coverage of unrest in Iran, have also pushed Europe closer to the US as both send billions of weapons to the Kyiv government. France, Germany, and the UK have joined Washington in arguing Iran sending drones to Russia contravenes a JCPOA clause barring the transfer of certain weapons to and from Iran.
While Western policy remains to prevent Iran from deciding to 'go nuclear' they also realize that at this juncture they cannot enter talks over the JCPOA.
Borrell mentioned two pre-conditions after meeting with the Iranian foreign minister: Tehran should immediately halt military support for Russia and internal repression, conditions the Islamic Republic can hardly meet in foreseeable future.