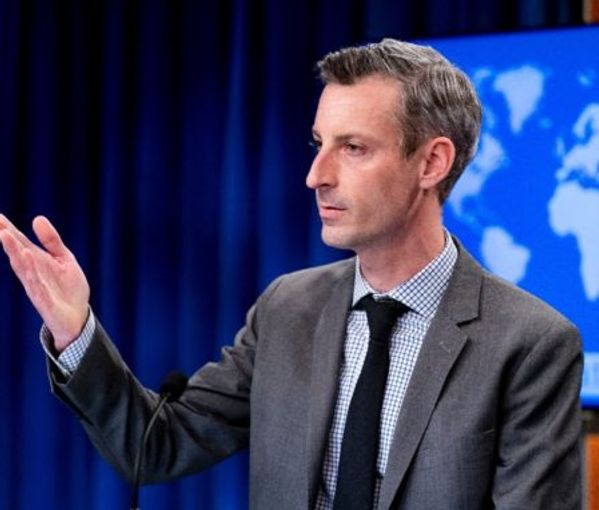 US Says 'All Options' On Table As Iran Nuclear Talks Remain Deadlocked
US State Department said Tuesday that nuclear talks with Iran remain dormant and although diplomacy is the preferred approach, other options remain on the table.
Spokesperson Ned Price said the United States has not observed any change from the Iranian side to warrant a resumption of negotiations to revive the 2015 nuclear accord known as the JCPOA. The Biden administration's 18-month-long diplomatic effort to reach agreement with Tehran arrived at a deadlock in early September.
"We continue to believe that diplomacy is the best way to achieve that goal, but we've always been clear we're not going to remove options from the table, and we're going to discuss all options with our partners, including, of course, Israel," Price asserted.
Israeli leaders have repeatedly said that they will use any means for stopping Iran from obtaining nuclear weapons.
"The point we've made is that the Iranians killed the opportunity for a swift return to mutual compliance with the JCPOA," he said referring to what the US in September called "extraneous" demands by Tehran.
He also repeated earlier assertions that the Biden administration's focus is no longer on the nuclear talks, but on the twin issues of protests in Iran and Tehran's supply of kamikaze drones to Russia, which have been used by hundreds to attack Ukraine's civilian infrastructure.
"Since September especially, our focus has been on standing up…for the fundamental freedoms of the Iranian people and countering Iran's deepening military partnership with Russia and its support for Russia's war in Ukraine," Price maintained.
Asked if the US has discussed the issue of stopping Iran from supplying UAVs to Russia with Israel, which in the past has been able to sabotage Iran's nuclear plants, Price said: We have absolutely had discussions with our Israeli partners regarding the threat presented by Iranian UAV technology and the proliferation of Iranian UAV technology to countries around the world, including to Russia.
The Biden administration has been quick in starting discussion with the new Israeli right-wing government headed by Benjamin Netanyahu, a staunch opponent of the JCPOA. Secretary of State Antony Blinken held discussion with the new Israeli foreign minister Elie Cohen in recent days. He told new Israeli Foreign Minister Eli Cohen in a 40-minute phone-call that the JCPOA was finished, and that the US wanted the European Union to step up sanctions against Iran.
Blinken's reported statement about JCPOA being "finished" echoed President Joe Biden's remark during an election stomp in early November, when he was heard in a video saying the JCPOA "is dead."
Biden's remark was welcomed by Israel's former government members who took credit for the failure of the talks. In a tweet on December 20, former prime minister Neftali Bennett said, "Great achievement by our government! Quietly, and through a series of diplomatic and other wise actions, we managed to stop the return to the nuclear deal without confronting the United States."
Price was also asked during his Tuesday briefing if the administration will support a possible Iranian opposition coalition against the Islamic Republic.
He evaded a direct answer, saying, "first and foremost this is a question for the people of Iran, how or if they want to organize themselves." But he went on to praise the anti-regime protest movement which "has been sparked and in many ways carried by the women and girls of Iran, but also the fact that it has been organic, it has crossed ethnic lines, it has crossed geographic lines inside of Iran, and it has in a sense been leaderless. That has allowed these protesters to continue and to persist with their efforts in ways that previous movements in Iran have not been able to."
Price also reaffirmed US support for the movement. "It is our role and responsibility to support their freedom of expression, their freedom of assembly, every single other universal right and freedom that belongs to the Iranian people."