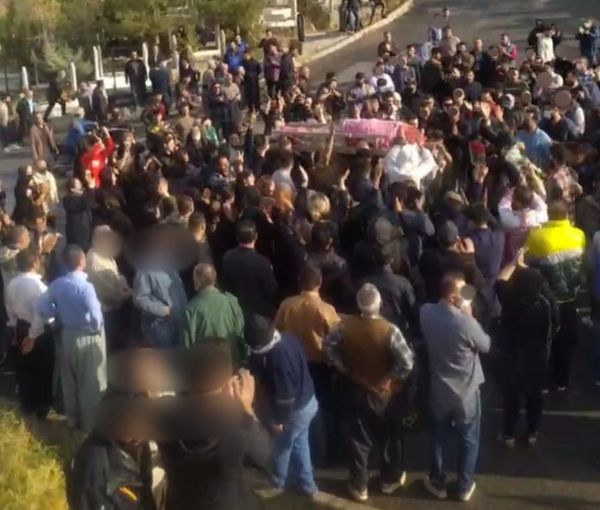 People Take To Streets In Kurdish City, Take Control Of Governor's Office
Large crowds that took to the streets in the Kurdish city of Mahabad in northwestern West Azarbijan Province Thursday morning have reportedly taken control of the governorate and some other buildings.
Residents of Mahabad took to the streets after participating in the funeral ceremony of 35-year-old Esmail Moloudi who was killed during nationwide protests the night before after security forces opened fire at the chanting crowd to disperse them.
Participant in Moloudi's funeral chanted anti-government slogans such as "Death to the Dictator" and "A martyr does not die".
Videos posted on social media show a huge crowd of protesters on the street and protesters outside the governorate building part of which was burning. Videos also show security forces shooting at protesters and some injured protesters.
Moloudi, father of one, was shot dead Wednesday night duringprotests in Mahabad.
Protests were held in over thirty cities and towns across the country on Wednesday to honor Mahsa Amini whose death in custody sparked the current protests on the traditionally significant 40th day of her death.
According to Hengaw Organization for Human Rights another 21-year-old man named Mohammad Shariati was also killed in Sanandaj by security forces' direct fire Wednesday evening.
Iran Human Rights, a Norway-based rights organization, said Tuesday that at least 234 people, including 29 children have been killed in the ongoing nationwide protests in Iran.
The protests which erupted in Mahsa Amini's hometown of Saqqez and the capital Tehran after her death in hospital soon spread to many other towns and cities across the country. Protests in Iran have garnered massive support from expatriate communities around the world as well as foreign governments and officials.