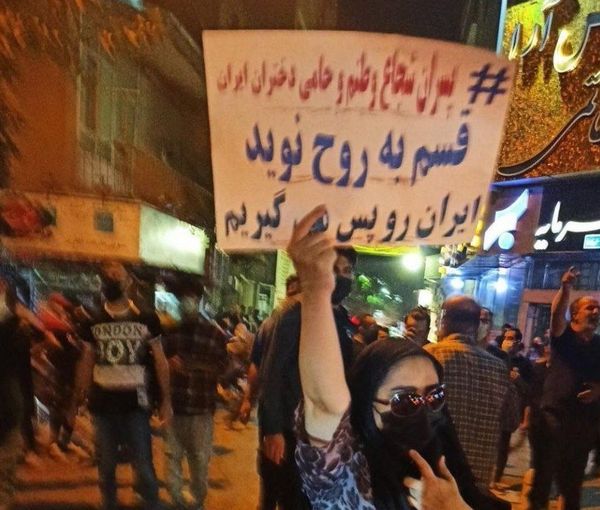 Iran Sanctions British Officials, Media Outlets Over 'Incitement'
Iran said it was sanctioning British individuals and entities over "activities that have led to unrest, violence, and terrorist acts against the Iranian nation."
These included Tom Tugendhat, Minister of State for Security, Commodore Don Mackinnon, British naval commander in the Persian Gulf, and Steve McCabe, member of parliament ad Chair of Labour Friends of Israel, as well as media outlets and their owners including BBC Persian and Iran International. Iran also cited the UK National Cyber Security Centre (NCSC) and the intelligence center known as 'GCHQ.'
During recent unrest, Iranian officials have complained about foreign media and social media operators, including those in Britain reporting on protests and airing interviews with Iranian pundits based abroad, including state-funded media. The clerical regime in Iran has taken exception to news and commentaries it claims are justifying attacks on government employees and ambulances, while it does not allow the media in Tehran to report on the protests.
The government has also often cut off access to the Internet or slowed down cyber traffic for more than a month to prevent news and images of the protests from being shared among the people.
The official news website IRNA said the named individuals would not be allowed to enter Iran and that any assets held under Iranian jurisdiction would be confiscated. It said the measure did not preclude criminal prosecution and that Iran still considered the British government "accountable for supporting terrorists and human rights violators who organize and incite riots and terrorist acts in Iran from its soil."
Foreign Minister Hossein Amir-Abdollahian also said Wednesday Iran would designate 19 US and European officials and entities over sanctions and "incitement to violence."
Iran has been persecuting journalists working for the BBC, US funded international broadcasters Voice of America and Radio Farda, as well staff at Iran International and other media organizations. Family members have been harassed for more than a decade and direct threats made against journalists.
Iran's 83-year-old ruler Ali Khamenei and other officials have blamed the protests on "foreign enemies" and "their media", while pundits and some politicians in Iran have been warning for months that the social and political atmosphere was ripe for popular demonstrations and unrest.
In fact, protests have been going on almost continuously since December 2017, when rising prices first led to nationwide disturbances. In November 2019, a sudden government hike in gasoline prices also led to widespread protests during which security forces killed at least 1,500 civilians.
The current protests that started on September 16 were triggered by the death in police custody of Mahsa Amini, a 22-year-old woman who was arrested three days earlier for her "improper hijab." Women and young people have led the protests demanding regime change, with their favorite slogan being "Death to the dictator."