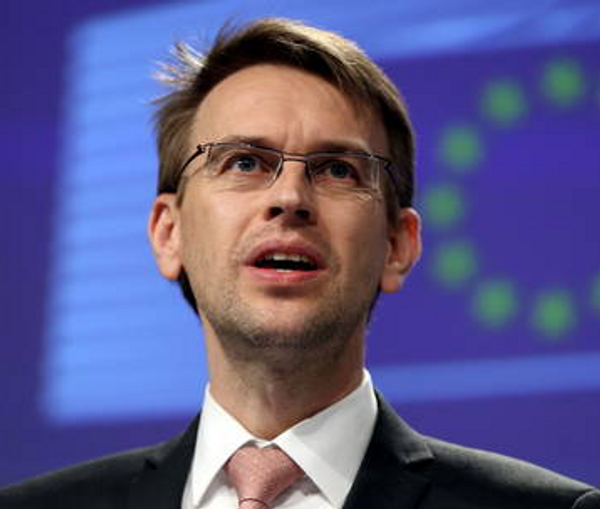 EU Dismisses Iran's Sanctions As 'Purely Politically Motivated'
The European Union on Thursday dismissed sanctions that the Islamic Republic imposed on several EU individuals and media outlets in a tit-for-tat move as "purely politically motivated."
Expressing concerns about the clerical regime's ongoing violent crackdown on antigovernment protests, EU's lead spokesperson for foreign affairs Peter Stano told journalists Thursday that contrary to Tehran's sanctions, "when you take the EU sanctions (on Iran), they are adopted on clear legal grounds, based on the evidence of human rights violations in Iran." 
In reaction to the EU's October 17 sanctions targeting Iranian individuals and entities over their role in the brutal suppression of peaceful protests,Tehran announced Wednesday sanctions against eight institutions and 12 individuals based in the EU.
Iran's Foreign Ministry claimed that the Islamic Republic's sanctions were imposed due to "deliberate actions in support of terrorism and terrorist groups, encouraging and inciting terrorism, violence, and hatred, which has caused riots, violence, terrorist acts, and human rights violations against the people of Iran."
Iranian authorities, including the Supreme leader and the president, accuse Western countries and Israel of being behind the current wave of antigovernment protests, ignited by the death in custody of 22-year-old Mahsa Amini.
The new list of sanctions includes the Persian-language services of Germany's Deutsche Welle and France's RFI, extending Iran's animosity against foreign-based channels that it says are promoting an uprising such as BBC Persian and Iran International. Two directors of the German newspaper Bild were also blacklisted.