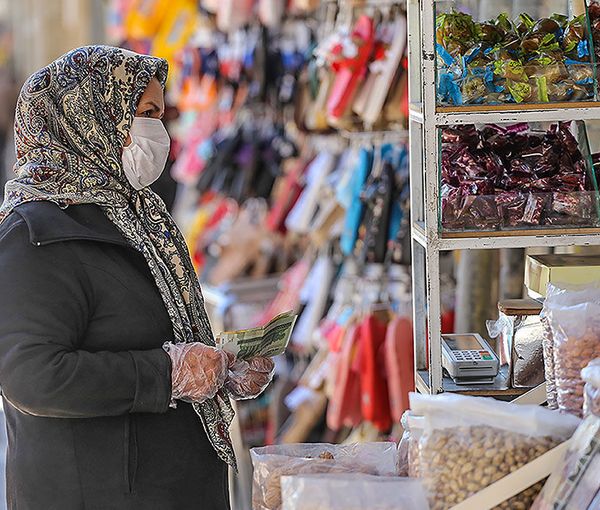 Media, Politicians Attack Raisi For Iran's Economic Crisis
A conservative newspaper in Tehran has harshly criticized President Ebrahim Raisi for his failure to solve Iran's economic problems and to control rising prices.
Jomhouri Eslami [Islamic Republic] newspaper reported April 8, that one of Iran's major pharmaceutical firms has increased the prices of its products by 67 percent. In another report, the daily said that during the past week state-owned companies raised vehicle prices by 40 to 70 percent.
Meanwhile, the daily charged that the Raisi administration's economic policy is in sharp contrast with the Supreme Leader's Nowruz slogan of "Boosting production and controlling inflation". Raisi has said his government will do everything to achieve what the motto calls for.
An unprecedented drop in the value of Iran's currency since September 2022 has led to runaway inflation and forced Iran's ruler Ali Khamenei to officially call for a crusade against rising prices. The value of the rial has halved dropping from 250,000 to the US dollar to around 500,000.
The main reason for the crisis is the lack of any prospect for reaching an agreement with the West over Iran's nuclear program, which can lift crippling sanctions imposed by the United States.
The newspaper warned Raisi not to resort to invalid justifications to whitewash the bitter realities Iranians are facing daily. Jomhouri Eslami also accused Raisi of burying his head in the sand and trying to sort out the problem by issuing orders while only during the first ten days of the New Year the price of essential commodities have undergone a 15 percent hike while travel costs have risen between 25 to 40 percent.
A student holding up a sign in Tehran University in November 2022
The daily asked Raisi: "Didn't you know before the Leader's speech that inflation should be controlled? And how can you guarantee that you are able to control the prices from now on?" The newspaper suggested that Raisi should change his government's policies, start proper planning and hand over executive works to experienced and expert individuals.
Jomhouri Eslami had said in an earlier report on April 4 that the Raisi was not planning to discontinue his failed policies. The daily had said that Raisi should have taken a lesson from the people's protest in 2022 and suggested that he should not allow a hardliner minority to make decisions for his government.
Meanwhile, former reformist lawmaker Mahmoud Sadeghi on March 31 called on Raisi to resign and told him in a tweet that "The best solution for the country's problems is your resignation before holding a free and fair election." He further asked Raisi to be brave and resign.
Although US sanctions are a key factor in the economic crisis, politicians and pundits pile on Raisi, because they do not dare to say that Khamenei should allow a nuclear agreement with the West. Raisi's haphazard management is another reason why critics find it easy to attack him.
In another development, conservative commentator Nasser Imani opined on April 4 that the government's weakness in decision-making reflected the President's mentality. He charged that Raisi's slow decision-making often ends in no decisions being made.
Speaking on the accusations of Raisi being under the influence of the ultraconservative Paydari Party, Imani said: "Being under the influence of Paydari Party is not the Raisi administration's main problem. The problem is that the government usually either finds it difficult to make decisions or it does not make any decision at all."
Imani argued, "Many government plans have remained undecided. For instance, the government said recently that it was about to create a Commerce Organization to operate under the President's Office, but the idea was abandoned after some time."
Imani further said that a major part of the problem is caused by the confusion in the government about how to tackle inflation. Raisi thinks inflation can be controlled by issuing orders, but the economy does not work that way.