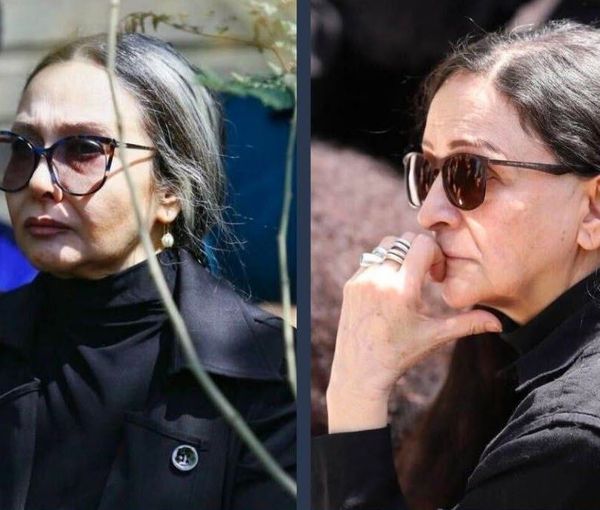 Celebrity Actresses Anger Iran Hardliners With Hijab Defiance
Three prominent actresses defiantly appeared 'bare headed' at the funeral of a colleague Friday despite authorities' warnings of serious consequences for 'hijabless' women.
Katayoun Riahi, Golab Adineh, and Fatemeh Motamed-Aria attended the funeral of popular film director, Kiumars Pourahmad in Tehran, who tragically ended his own life earlier this week.
Angered by such open defiance, hardliners on social media are calling for their punishment to set an example for others while taking their cue from Supreme Leader Ali Khamenei's speech earlier this week. Officials, lawmakers and regime clerics are vowing to re-impose the hijab rules that women have increasingly been defying in the past six months.
"Start from celebrities, not the hijabless girls on the street because these celebrities are their role models," a hijab promoter said in a Twitter post with the 'hijabless' images of Riahi and Adineh at the funeral.
Riahi, 61, was the first among Iranian female artists to express her solidarity with the Mahsa Movement amidst the nationwide protests in September by sharing her photo without a veil on Instagram. "Iranian women are each other's voices," she said in her post.
A man wearing a shawl over his head at a protest rally outside the National Library
The award-winning actress fled in time to avoid being arrested by security forces who raided her house but was arrested in November after living in hiding for two months.
Riahi was subjected to huge phycological pressure during her trial in December to "apologize' for her deed but had to be taken to hospital from the court after fainting and losing her consciousness in front of the cameras filming the proceedings, apparently for airing on the state television.
Kazem Sadighi, head of the regime's chastity outfit, the headquarters for Promoting Virtue and Preventing Vice, said Saturday that the "hijab criteria" drawn up by his organization has been sent to the president, parliament and the judiciary and that it will be communicated to government offices to enforce after being finalized.
Katayoun Riahi telling Iran International TV in November that she had never believed in hijab to "remove" it now.
In their sermons this Friday, the ultra-hardliner Friday imam of the religious city of Mashhad, Ahmad Alamolholda, threatened again that "people" may take the matter into their own hands against women who defy the hijab if authorities did not "have plans" to deal with "hijablessness".
Katayoun Riahi telling Iran International TV in November that she had never believed in hijab to "remove" it now.
Khamenei and other officials including Chief Justice Gholam-Hossein Mohseni Ejei have repeatedly accused those opposed to compulsory hijab of working for "enemy" intelligence services.
At a meeting with state officials Tuesday, Khamenei claimed that foreign intelligence services were encouraging Iranian women to disobey mandatory hijab. He also claimed that "the enemy" is working according to "a plan and plot" and urged authorities to have their own plan for dealing with the issue of hijablessness.
While claiming that most Iranians agree with enforcing compulsory hijab, Ejei's deputy, Mohammad Mosaddegh, repeated Khamenei's accusations Thursday and said the judiciary will "take serious action" against "hostile" individuals who are "cooperating with foreign intelligence services to promote hijablessness".
The police in several cities including Tehran have been summoning women whose 'hijabless' images were picked up by CCTV cameras. The police have also asked citizens to report the plate numbers of cars in which passengers are 'hijabless' and threatened to punish them "in accordance with the law".
The measure has backfired and caused chaos in the system as many citizens have reported the plate numbers of cars whose passengers wore hijab, particularly the long black veil known as chador that the regime has always promoted as the measure of excellence in hijab abidance.
On Friday a small group of male and female members of the National Library protested outside the library against the decision to cancel the membership of 'hijabless' women.
Men who had participated in the rally wore headscarves in protest to compulsory hijab and after chanting "Woman, Life, Freedom" women threw their headcovers into a fountain.