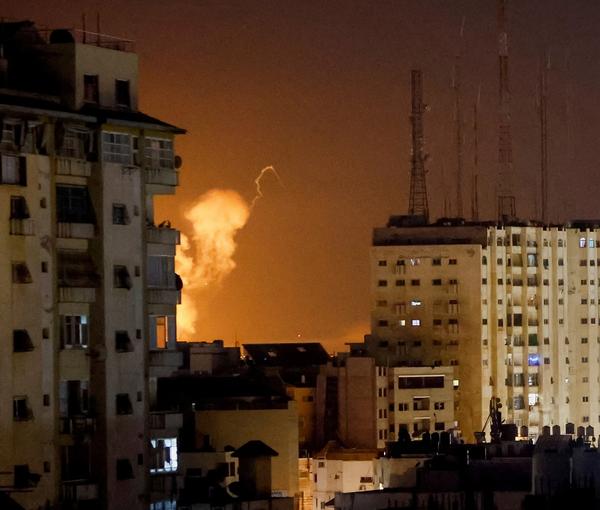 After A Day Of Rocket Exchange, Iran And Israel Keep Cards Close To Their Chest
After two days of serious Israeli-Palestinian flare ups, Iran's Revolutionary Guard and hardline media have so far remained unusually quiet on the issue.
Support for militant groups by the Islamic Republic certainly fuels occasional military clashes with Israel, but so far, media controlled by the IRGC and hardliners has limited itself to publishing news of the clashes with the usual rhetorical tint of Palestinians inflicting heavy losses on "the Zionist enemy."
Even the most hardliner IRGC mouthpiece, Javan newspaper, had no lead story Friday morning about the military clashes which saw dozens of rockets fired from Hezbollah controlled territory in southern Lebanon into Israel on Thursday, while rockets continued to be fired across the Gaza border from Hamas, who in 2021 publicly thanked Tehran for a $70m donation of missiles. 
Instead, hardline media on Friday focused on the hijab issue, the regime facing ongoing challenges of enforcing the mandatory headscarf amidst mass rebellion. Media in Iran carried more reports about how insidious women who remove their veils are, rather than coverage of Israeli-Palestinian clashes.
Although the IRGC top brass might start taking credit for their support for the "resistance front" once clashes die down, at this point they seem to prefer to stay on the sidelines rather than further implicate the Islamic Republic in Palestinian actions, however clear that influence is.
However, there have been some discreet nods to the attacks such as public statements made supporting the Palestinian cause.
Press TV -- an official regime channel -- also continued to show support for the cause in a discreet celebration of the barrage of dozens of rockets fired into Israel on Thursday.
This could not have happened without Hezbollah's approval -- Iran's most powerful proxy controlling the entire area. It is unlikely that Tehran was unaware of the attack, and very likely it had approved such a move.
The military flare up coincided with an important meeting between the Iranian and Saudi foreign ministers in Beijing, where they agreed on the process to re-establish diplomatic relations after seven years of bitter animosity. Analysts assume that Saudi Arabia expects Iran to behave differently in the region, especially in propping up militant groups.
The only visible action by Tehran was a call by Foreign Minister Hossein Amir-Abdollahian on Thursday for convening a meeting of the Organization Of Islamic Cooperation to discuss Israel's latest "assault" on Al-Aqsa Mosque and its "desecration."
A woman prays as Palestinian Muslims attend Friday prayers of the Muslim holy month of Ramadan, on the compound known to Muslims as the Noble Sanctuary and to Jews as the Temple Mount, in Jerusalem's Old City, April 7, 2023.
But the question which remains unanswered is what the purpose of a visit by two Iranian foreign policy figures was to Syria and Lebanon in late March. Supreme Leader Ali Khamenei's foreign policy advisor Kamal Kharrazi and former nuclear negotiator Abbas Araqchi visited Damascus and Beirut during Iran's Nowruz holidays, with no statements made about the purpose of the diplomatic visit. 
Kharrazi only commented that it was a "successful mission", but it is unlikely the representatives of Khamenei were there merely as a courtesy call. Did they carry a message from the Supreme Leader? What was the message that could not have been delivered through routine channels to Syria's Bashar Al-Assad and Hezbollah's Hassan Nasrallah? It is also no coincidence that on the eve of the attacks from Lebanon on Thursday, Hamas leader Ismail Haniyeh arrived in Beirut to meet with Nasrallah.
At the end of March, IRGC spokesman Brigadier General Ramezan Sharif called on Palestinians to take advantage of ongoing protests in Israel against proposed legal reforms under the right-wing government, to destabilize the country. On March 28, Sharif said "this is a golden opportunity for the Palestinian fighters to take advantage of the situation," telling local media that Jerusalem's "liberation" is near, "thanks to the Palestinian struggle." He called Khamenei "the flag bearer" of the fight against Israel."
For now, Israel is not taking the bait. Refusing to attribute blame for the barrage on Hezbollah, it prefers to focus on Hamas, which has so far managed to create chaos on three fronts, Al Aqsa, Gaza's border and now, the Lebanese border. The Israelis have vowed a strong response, but are as yet keeping their cards close to their chest before playing into the hands of Iran and Hezbollah.