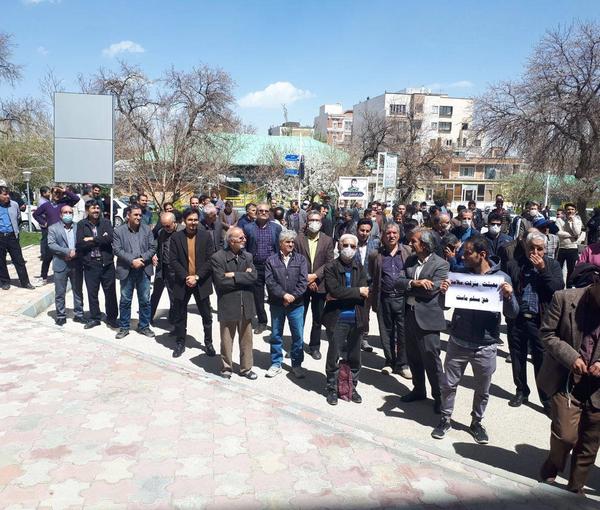 Iran Security Forces Attack Teachers' Protests, Make Arrests
Iran's security forces Thursday violently attacked teachers' protests in Tehran and Karaj, detaining several some of whom were reportedly freed a few hours later.
According to citizen reports on social media, hundreds of police who were present in Tehran since morning outside and around the ministry of education violently prevented teachers from convening and holding their rally.
"At first around 500 uniformed police blew in their whistles together to disperse the teachers … Plainclothes agents and the police pulled women's hair and dragged them to their vans and beat up several men and women," a teacher told the Iranian Teachers' House (ITH), adding that those who intended to join the rally were either dispersed or detained in the streets nearby and there were only between 200 to 300 outside the ministry.
ITH said the release of all detained teachers had yet not been confirmed. "Such brutality against teachers who have thus far protested in the most civil and dignified manner is highly regrettable and a shame for the authorities and the vicious plainclothes agents and police who are against the people," ITH said while stressing that teachers will continue their protest action in the future.
Teachers chanting outside the education department of Robat Karim
Security forces also managed to prevent a rally from forming in the city of Karaj, capital of Alborz Province. According to teacher's account published on the Telegram channel of the Coordination Council of Iranian Teachers Trade Association (CCITTA), security forces clashed with teachers most of whom were women and arrested a male teacher. They would not even allow anyone to stop by the side of the street, one of the teachers said.
In some other cities including Kermanshah, the capital of, Kermanshah Province, Hamedan and Malayer in Hamedan Province, Neyshabur in the northeastern Khorasan-e Razavi, and Robat Karim to the south of Tehran teachers managed to hold their rallies.
In these peaceful rallies teachers chanted their demands including the release of Mohammad Habibi, spokesperson of Iranian Teachers Trade Association and other colleagues.
Habibi was sent back to prison Wednesday less than two months after being released on Supreme Leader Ali Khamenei's partial amnesty of protesters and some activists. According to his family, he was taken from the school where he teaches to his home and taken away to prison. His wife Khadijeh Pakzamir said in a tweet Thursday that in a phone call from Tehran's Evin prison, Habibi said security forces had assaulted him in the vehicle on the way to prison.
Teachers demanding the release of Mohammad Habibi outside the education department of Kermanshah
In Ahvaz, the capital of the southwestern Khuzestan Province, protesting teachers who were joined by some parents also protested against the continued poisoning of schoolgirls and the ministry's threats against students over compulsory hijab.
Two schoolgirls hugging each other after a poisonous gas attack at their school
In a statement Tuesday, the ministry said students who do not comply with the compulsory hijab rule will not be allowed to attend classes. Similar threats have been made against university students.
Earlier this week, Teachers' trade associations called for rallies outside the ministry of education in Tehran and education departments in other cities Thursday to protest the ministry's failure to address their long-held grievances over paygrades, low salaries, and the government's failure to pay their wages before March 21 when the Iranian New Year Holidays began.
The minister of education Yousef Nouri resigned Monday amid widespread discontent for the delay in the payment of salaries, apparently due to lack of proper coordination with the Planning and Budget Organization over the payment of approved raises.
Teachers have threatened to stage street protests in May if their demands are not met.