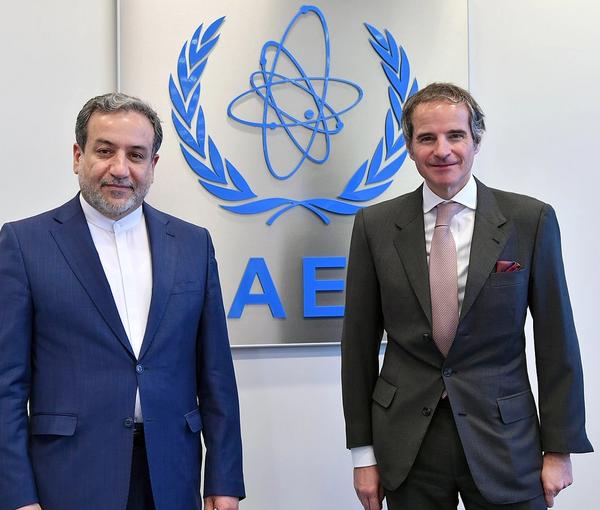 Iran Politician Suggests Former Nuclear Negotiator Should Be Reinstated
An Iranian politician has suggested to reinstate former chief nuclear negotiator Abbas Araqchi to discuss the revival of the 2015 nuclear deal with the United States.
Mansoor Haqiqatpoor also suggested that "radical elements" should no longer be on the negotiating team. "I hope the radicals' power in Iran will be reduced. I guess [President Ebrahim] Raisi has realized how radicals can do harm to Iran's foreign policy. They have prevented the talks from being fruitful."
Speaking to conservative Nameh News website, Haqiqatpoor said, "I hope the officials have realized that radicals should not be put in charge of decision-making as they will push Iran into international isolation."
He added that the negotiations can lead to positive results if Iran's team changes its approach. I suggest that even if Araqchi is not put in charge of the negotiating team, he should at least be an adviser to the team."
Araqchi was Former Foreign Minister Javad Zarif's deputy, and he led Iran's nuclear negotiators under the Rouhani administration until mid-2021.
While some say that talks in the first half of 2021 under Araqchi were yielding results, the hardliner team under Raisi, who assumed office in August of that year, dragged out talks with the West until the diplomatic effort reached an impasse last September.
Meanwhile, in an interview with centrist Agahi-ye No magazine, former moderate vice President Es'haq Jahangiri said that former US President Donald Trump withdrawal from the 2015 nuclear deal known as the JCPOA and reimposition of sanctions dealt a hard blow to Iran's economy.
He said when Trump decision pushed "all our friends in various countries" to distance themselves from Iran. China which was cooperating with Iran on the Tehran-Mashhad rail line, was the first country to stop its projects and pull out of Iran. Then, the French energy company Total said they cannot continue working with Iran. China was Total's trade partner, and the Chinese should have continued working, but they too said they cannot go on with projects to expand the Persian Gulf gas fields.
"From 2018, under the circumstances we changed tracks from the country's development to helping with the people's livelihood. All we wanted to do was protect the people and help them to survive. I was one of the biggest defenders of domestic production, but I knew that without international trade we could not succeed," Jahangiri said.
Head of Iran's Atomic Energy Organization Mohammad Eslami and International Atomic Energy Agency (IAEA) Director General Rafael Grossi arrive at a news conference, in Tehran, March 4, 2023
At the same time, while many politicians in Iran have pinned their hopes on a possible breakthrough after IAEA chief Rafael Grossi's visit to Iran in early March, Behrouz Kamalvandi, the spokesperson for the Iranian Atomic Energy Organization told the press on Tuesday that he is neither optimistic nor pessimistic about the future.
He said the IAEA was supposed to investigate nuclear traces in Marivan area where Uranium-236 has been traced. Kamalvandi said the trace dates to old activities by Russians in the area. But instead of looking for answers for their original questions, the IAEA inspectors raised new questions.
He charged that world powers do not want Iran to gain nuclear power and benefit from its economic, industrial and technological aspects. However, he did not say that Europe and the United States, as well as Iran's neighbors in the region are scared by the possibility of Iran developing nuclear weapons.
He also ignored the fact that Iran's uranium enrichment closer to weapons grade has led to more international concerns. He also acknowledged that resources spent on the nuclear program have adversely affected Iran's economy.