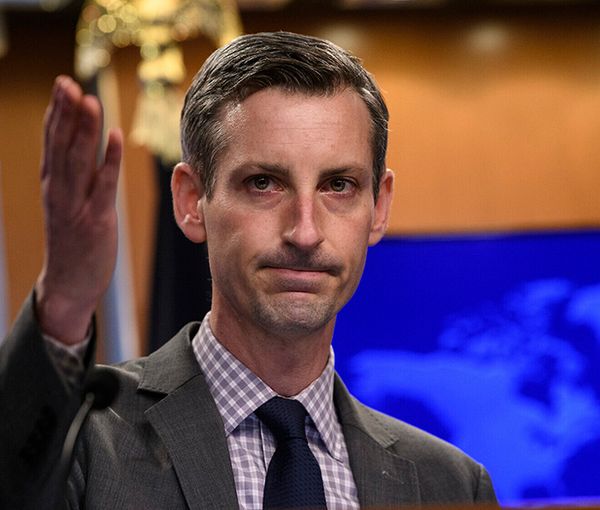 US Pursues Diplomacy With Iran But Not On Restoring Nuclear Deal
US State Department refused Monday to comment on the possible release of Iran's frozen funds in exchange for three Americans held by Iran.
The State Department's outgoing spokesperson Ned Price however, signaled that efforts are underway for their release. He also sounded positive about a deal last week between Iran and Saudi Arabia to restore relations, brokered by China.
There have long been signs that a US agreement to free $7 billion frozen by South Korean banks would be the price to pay for the release of three dual-nationals considered in effect hostages held by Iran. But after Iran's deadly crackdown on popular protests and its supply of weapons to Russia, the proposition has become politically costly for the Biden administration.
At the same time, Price once again reiterated that restoring the 2015 nuclear deal (JCPOA) with Iran "is not on the agenda." He said the Biden administration thought it was "on the precipice of it, only for the Iranians to once again prove that their word was unreliable and to pull back what they had agreed to."
Talks that began in April 2021 reached a deadlock in early September 2022 when Washington blamed Tehran for presenting "extraneous demands."
"So that's not on the agenda. What is always going to be on our agenda as a first resort is diplomacy. We continue to believe that diplomacy is the only permanent, durable, verifiable means by which to address Iran's nuclear program. We're not giving up our ambitions and our hope on that, even as we're preparing for all potential contingencies," Price said.
It is not clear if JCPOA talks are not on the agenda then what is US diplomacy pursuing? In the past months, both Washington and the European powers involved in talks with Tehran have raised the issue of Iranian weapons supplies to Russia and its gross violations of human rights.
It seems that the West is pursuing either a more comprehensive deal beyond the nuclear issue or perhaps piecemeal agreements on specific issues.
An Iranian analyst in Tehran told ILNA news website Tuesday that the US might be pursuing a limited and temporary agreement to address some dangerous aspects of Iran's nuclear program. Khosrow Shahin said that Washington might also be aiming for partial agreements on various issues, such as the release of prisoners to reduce the final cost of a full nuclear deal.
Some reprieve from oil sanctions could be one of the incentives for a cap on Iran's uranium enrichment, similar to the 1990s Iraqi 'oil for food' UN program, although Iran needs hard currencies to deal with its worsening economic situation. In February NBC News reported that if Iran's frozen funds are released in exchange for prisoners, limitations on how to spend the money might apply.
Regarding the Chinese brokered agreement between Riyadh and Tehran, Price said the United States supports "dialogue, we support direct diplomacy, we support anything that would serve to de-escalate tensions in the region and potentially help to prevent conflict."
Price also tried to dismiss suggestions that China can supplant the US role in the region, emphasizing that the Biden administration has accomplished a lot in enhancing cooperation between regional countries.
"So, I think in any way you look at it, America is deeply engaged with the Middle East. We have, I think, demonstrated results in those efforts to leave a region that is more stable, is more integrated, is more prosperous. We have a long way to go…," Price, who will soon be leaving as spokesman said.