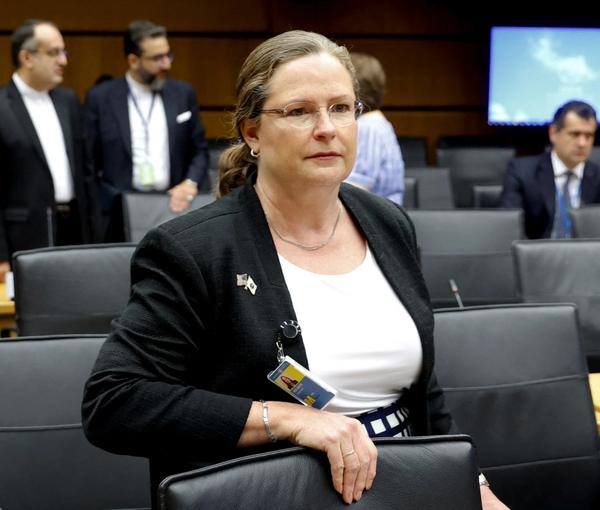 US Demands Answers From Iran Over Highly Enriched Uranium
The United States has demanded immediate clarification from Iran over more than 80-percent enriched uranium recently discovered by UN nuclear watchdog the IAEA.
US Ambassador to the International Atomic Energy Agency in Vienna, Laura Holgate, in a statement issued at the quarterly board meeting of the agency said, "Iran must clarify this issue immediately. Whether intentional or inadvertent, Iran's actions continue to intensify tensions and push unprecedented boundaries."
In February reports emerged, later confirmed by the IAEA that uranium particles enriched to 84 percent were detected at Iran's underground Fordow enrichment site. The agency's director general Rafael Grossi visited Iran last weekend and held talks with officials, including President Ebrahim Raisi. A joint statement issued at the end of Grossi's trip highlighted general commitments made by Tehran to increase its cooperation with the UN watchdog, pending further planning meetings.
As Grossi's trip immediately preceded the IAEA board meeting, it is not possible for the international community to know about Iran's intentions of allowing more monitoring access to the agency. Diplomats say that for this reason, Iran might not be censured at the meeting for its violations until the picture becomes clear before the June meeting of the board.
IAEA director general Rafael Grossi speaking about his Tehran trip in Vienna on March 6, 2023
Ambassador Holgate underlined the importance of Grossi's follow-up work with Tehran. "Should Iran follow through on its reported decision to take up certain transparency measures as conveyed to the Director General, it would be an encouraging sign, but we of course need to see if these steps are, in fact, implemented."
Iran International's correspondent in Vienna reported from the IAEA meeting that the agency seeks to interview personnel who were in charge of the enrichment machines when the 84-percent particles were produced. However, Iranian officials declared after Grossi left Tehran that no access will be given to the IAEA to speak with individuals.
State Department spokesperson Ned Price in his daily briefing on Tuesday reiterated Washington's cautious welcome for Grossi's agreements with Iran. Price said, "Now, the key point for us is that the joint statement between the IAEA and Iran was important. What will be much more important is the follow-through."
The spokesperson also reiterated three demands the Biden administration has been underlining in recent weeks. "First, stop killing, stop suppressing your people; second, stop providing UAV technology to Russia; and third, release the wrongfully detained Americans that you have held."
Talks with Tehran to revive the Obama-era nuclear accord known as JCPOA reached a deadlock last September and since then Washington has repeatedly said that it is not focused on the issue.
Despite its toughening position, critics of talks with Iran insist that the administration must come out and clearly say that the JCPOA is dead, but the White House insists it still thinks diplomacy is the best way to stop Iran's nuclear program from reaching weaponization.
Many in Congress oppose negotiations with Iran that could result in suspending US sanctions and providing tens of billions of dollars in frozen funds to the Iranian regime.
Senator John Thune told Iran International's correspondent Tuesday that "The Biden administration has in many cases turned a blind eye to some of the national security challenges we face. A nuclear Iran is certainly on top of that list." He added that he is "not sure if Iran's nuclear program is stoppable at this point."