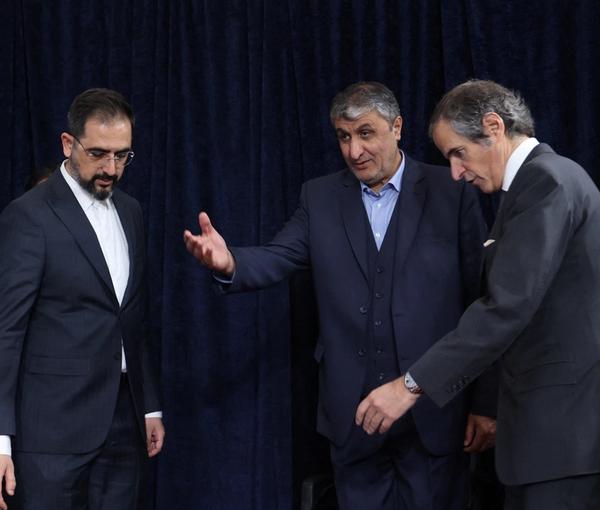 IAEA Unlikely To Censure Iran At Board Meeting This Week
Western officials indicate there will be no censuring of Iran at a meeting of the UN watchdog, the IAEA this week in the wake of its visit to Tehran last weekend.
Rafael Grossi, IAEA's Director General, was invited by the Islamic Regime in a bid to show transparency, fighting the implications of bitter sanctions which are crippling the country's economy.
Grossi received commitments that the Islamic Republic will cooperate with the watchdog to resolve outstanding issues regarding monitoring and past activities but the pledges Iran made have yet to be worked out in any great detail. On Monday, Grossi announced in a press conference that he cannot guarantee any tangible changes or that greater transparency will result from his visit. 
"We have our ideas and this will be part of the technical discussions that are going to be undertaken as a follow-up to my visit, and to the joint statement. And a technical team will be travelling to Iran very soon to do that," he said. "We will have to discuss...this, how do we do it," Grossi said on Monday, conceding that this and other issues would largely hinge on future technical talks.
His remarks were met with skepticism by the global community, seen as a walking back of the statements he had made only two days before (Saturday) in which Grossi told a news conference they had agreed to re-install extra monitoring equipment such as surveillance cameras, at nuclear sites that was put in place under Iran's 2015 nuclear deal with major powers, but then removed last year as the deal unravelled following the U.S. withdrawal in 2018.
AFP also quoted anonymous Western diplomats that there are no plans to censure the Islamic Republic at the board meeting.
IAEA monitoring cameras used in Iran's nuclear installations being displayed in Vienna in December 2021
The US State Department spokesperson Ned Price said he held low hopes to Iran's keeping its promises, given recent history. During his Monday briefing with reporters, he said: "Iran committed to take important steps and expressed a readiness to provide long overdue cooperation with the agency on the outstanding safeguards issues. We expect, most importantly, Iran to take prompt and concrete action in line with the joint statement. Too many times in the past we've seen Iran issue vague promises, only never to follow through."
Iran has been repeatedly censured in the past two years by the IAEA Board of Governors consisting of 35 nations for its lack of cooperation with the international nuclear watchdog.

Prior to this week's meeting, it was disclosed that monitoring discovered particles of uranium enriched to 84-percent purity in Iran's Fordow enrichment installation, and it was expected that a more stringent censure would be issued at the board meeting. But Grossi's 11th hour trip to Tehran and pledges made by the Iranian side seem to have eliminated that possibility, for now.
Both Grossi and Price have also indicated that it will take weeks, if not months, until Iran's real intentions can be judged. This means that the current board meeting might just adopt a wait-and-see approach and not issue a resolution.

This was most likely Tehran's intention when they invited Grossi for talks at short notice, as Iran has faced increasing isolation internationally since September saw anti-regime protests sweep across the country. Brutal crackdowns have led to more than 500 Iranian civilians being killed in protests, sparked by the death in custody of Mahsa Amini, arrested by the morality police for not wearing her hijab properly.

Additionally, revelations of Iran's supplying kamikaze drones to Russia since September has induced further Western sanctions and dashed the hopes for the resumption of nuclear talks.

"When it comes to the meeting of the Board of Governors, of course Iran will be a topic at the Board of Governors," Price said in this week's briefing. "We're engaged with our European allies, we're also engaged with the IAEA itself, on the most effective means by which to see to it that Iran is held to the commitments that it has made."

One reporter asked Price about repeated statements by Iranian officials that they have been receiving messages from Washington about resuming JCPOA talks that reached a deadlock last September which Price dismissed, reiterating that for the Biden administration the talks are not a priority.

"I haven't seen the full context of these remarks, but what I can tell you is that we have heard plenty of misleading statements and outright lies from Iranian officials over the course of weeks now. The JCPOA is not on the agenda; it has not been on the agenda for some time."