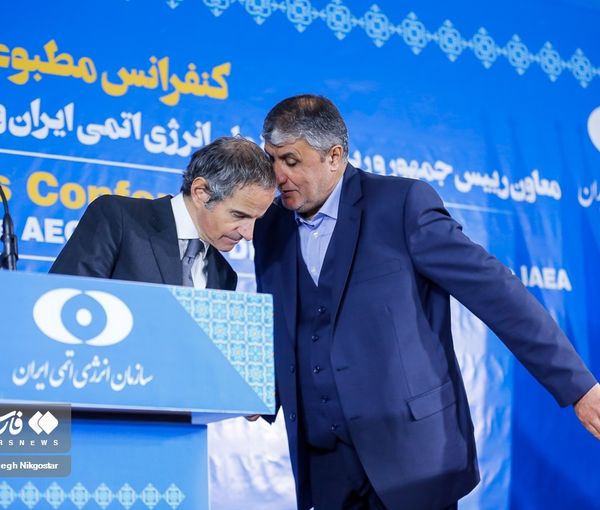 Iran Politicians, Commentators Unhappy About Grossi's Visit
Regardless of the apparent hullabaloo about IAEA chief Rafael Grossi's visit to Tehran, politicians and commentators in Iran appear to be skeptical about the outcome of the visit.
The political editor of a leading reformist daily Etemad in Tehran, Sara Massoumi, noted that hours after a joint press conference by Grossi and Iranian nuclear chief Mohammad Eslami, the official website of President Ebrahim Raisi and all of Iran's news agencies deleted parts of what they had earlier published as Grossi's statement in the news conference.
In the deleted parts Grossi was quoted as having said, "We have had very constructive and positive meetings with Iranian officials," and "It is quite clear who should be blamed for the current situation of the JCPOA." Another deleted sentence blamed "sinister elements" for preventing IAEA's cooperation with the Islamic Republic.
On Sunday, foreign policy analyst Amir Ali Abolfath said in an interview with conservative Nameh News website that Iran should not pin its hopes on the visit, adding that "regardless of the success or failure of Grossi's trip, there is no bright outlook for the Islamic Republic's relations with the IAEA."
Abolfath noted that the IAEA is a UN body and various countries do not have equal weights at the United Nations particularly in the areas linked to security issues. He added that one cannot expect the IAEA to be satisfied about Iran's nuclear activities as long as tensions between Tehran and Washington are not reduced.
Iranian commentator Amir Ali Abolfath
Meanwhile, former diplomat Fereydoun Majlesi pointed out in an interview with Khabar Online that "Iran's main problem is to have US sanctions lifted and not a visit to Tehran by Grossi." Majlesi also pointed out that Tehran should know that it cannot endlessly attack its adversaries without any repercussion.
He added that if the UN trigger mechanism or 'snapback' of international sanctions is activated, Iran will be in a difficult position and will have to reach out to foreign powers to solve its problems. Majlesi reiterated: "I have said many times in more than two years that the JCPOA is a burnt out case. Iran's problems are now about the Non Proliferation Treaty (NPT) and other nuclear commitments. Leaving the NPT is extremely dangerous for Iran and might lead to snapback before the end of 2023.
Grossi's visit, he said was mainly about making matters clear after 84-percent enriched uranium was detected in Iran and Grossi wanted to warn Tehran that this requires more rigorous monitoring and inspection of its nuclear activity.
Meanwhile, the editor of hardline daily Kayhan Hossein Shariatmadari wrote in a commentary on Sunday that Grossi's visit to Tehran was unnecessary and accused the IAEA chief of reporting back to Israel. He said Grossi will inform Israel before anyone else of the outcome of his visit.
In another development, the former chairman of parliament's National Security and Foreign Policy Committee Heshmatollah Falahatpisheh said in an interview with Etemad Online that Iran's Foreign Ministry is incapable of handling nuclear negotiations with JCPOA partners, and the matter should be handed over to the Supreme Council of National Security, a body closely linked to Supreme Leader Ali Khamenei.
Falahatpisheh said that the Foreign Ministry has so far missed all the opportunities it had to settle the nuclear disputes and reach an agreement with the United States and Europe.
He also said in another interview with Rouydad24 that the JCPOA should be removed from the gambling table of world powers and from the political rivalries between various political factions in Iran.