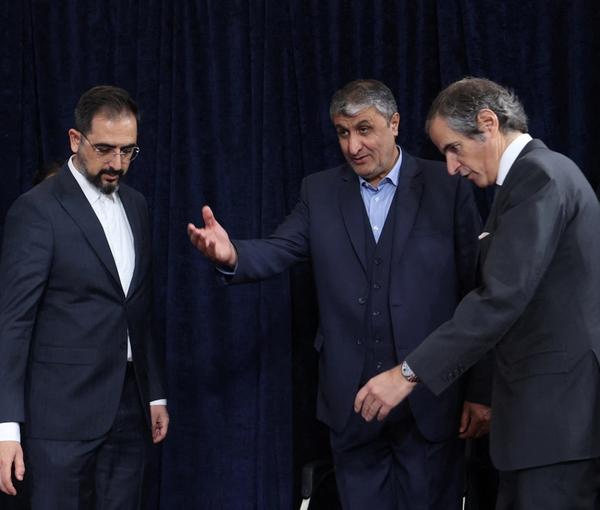 Iran And IAEA Announce Agreement To Pursue Cooperation
Iran agreed to offer more cooperation to the International Atomic Energy Agency (IAEA) Saturday after a two-day visit by the agency's chief Rafael Grossi.
A joint statement by the two parties pledged to carry out interactions "in a spirit of collaboration, and in full conformity with the competences of the IAEA and the rights and obligations of the Islamic Republic of Iran, based on the comprehensive safeguards agreement."
Grossi traveled to Iran just days before the IAEA Board of Governors was set to meet and hear a report about Tehran's cooperation with the UN nuclear watchdog.
In February it was revealed that IAEA inspectors had come across uranium particles in Iran's Fordow underground nuclear facility that were enriched to 84-percent purity. Such a high level of uranium purity is just short of 90-percent needed for building a nuclear bomb.
The joint statement Saturday did not directly mention this issue, except saying, "Iran, on a voluntary basis will allow the IAEA to implement further appropriate verification and monitoring activities. Modalities will be agreed between the two sides in the course of a technical meeting which will take place soon in Tehran."
Grossi was quoted by Reuters as saying that technical meetings with Iran will take place "very, very soon."
The other, long-term unresolved issue for the IAEA, is traces of uranium found at three undeclared Iranian sites dating back to before 2003, after the agency launched an investigation following the revelation of a nuclear archive stolen by Israel and revealed in 2018.
Iran was pressed to provide satisfactory explanations about why there were traces of fissile material at these sites, but so far the IAEA has said Iran's answers have not been convincing.
"Regarding the outstanding safeguards issues related to the three locations, Iran expressed its readiness to continue its cooperation and provide further information and access to address the outstanding safeguards issues," the joint statement said.
Grossi held talks with Iran's nuclear chief Mohammad Eslami, President Ebrahim Raisi, as well as with foreign minister Hossein Amir-Abdollahian.
Iran began exceeding enrichment levels set by the 2015 nuclear accord, the Joint Comprehensive Plan of Action (JCPOA) in 2019 after the United States withdrew from the deal and imposed full oil export sanctions.
As the Biden administration expressed its readiness in early 2021 to engage in talks to revive the agreement, Iran announced it would increase enrichment level to 20-percent purity. Later, Tehran began enriching at 60 percent and has stockpiled enough fissile material for four nuclear bombs. It would take just a few weeks to enrich the stockpile further to 90 percent.
Talks to return to the JCPOA lasted 18 months but reached a deadlock in September 2022. Iran now feels isolated and under pressure as its weapons supplies to Russia and a deadly crackdown on antigovernment protests have led to more Western sanctions and unwillingness to continue the talks.