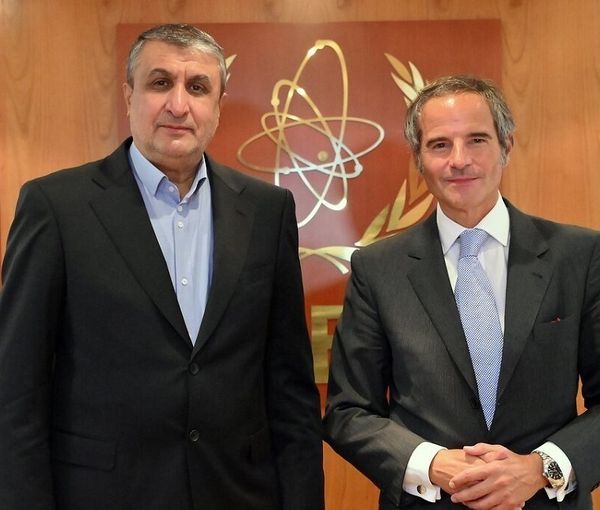 Iran Rejects 'Lies' About Giving IAEA Significant More Access
Iran's official government news website IRNA has rejected most of what appeared to have been progress during IAEA chief Rafael Grossi's two-day trip to Tehran.
IRNA published what it called "an infographic"Monday morning local time that included six short sentences each 'debunking' what it said were "six false claims about Iran and IAEA agreements after Rafael Grossi's trip."
Some of the six points, presented as responses by Iran's nuclear agency, directly rejected statements by Grossi after his return to Vienna Saturday evening.
Iran is supposed to provide access to information, locations and people, Grossi told a news conference at Vienna airport soon after landing, suggesting a vast improvement after years of Iranian stonewalling.
The first three "lies" Iran's nuclear agency refutes is about more inspections of nuclear installation that Iran has substantially reduced since early 2021 after its parliament passed a law restricting cooperation with the IAEA and mandating higher levels of enrichment.
First point in red fonts showed, "Individuals will be permitted to have access to Iran's nuclear installation," as one of the alleged fallacies. A sentence following this statement says, response by the Iran's nuclear energy agency: "Access by individuals was never raised [in talks with Grossi] and no text was written about this.
The "infographic" published by IRNA on March 6, 2023
The second point refutes Grossi's statement that new monitoring cameras will be installed: "There was no discussion or agreement over installing cameras."
The third point in the "infographic" rejects Grossi's statement that there will be a 50-percent increase in monitoring. It says that the only increase will be in Fordow uranium enrichment site where "inspections will increase from 8 to 11."
The fourth point pertains to a long-running dispute with the IAEA over traces of uranium found in three sites used for secret nuclear activities prior to 2003. The UN nuclear watchdog is demanding a full explanation and so far the Islamic Republic has not provided it.
The fourth point rejects the claim that the IAEA will have access to the three sites, saying that the Agency once inspected these locations and has not requested another round of access.
Immediately after Grossi's departure from Tehran, Iran's Atomic Energy Organization spokesperson Behrouz Kamalvandi had already denied giving access to individuals.
"During the two days that Mr. Grossi was in Iran, the issue of access to individuals was never raised," Kamalvandi told state news agency IRNA, adding there also has been no deal regarding putting new cameras in Iran's nuclear facilities.
On Sunday, Nour News, a website affiliated with Iran's Supreme National Security Council rejected giving new access to the IAEA to inspect the three disputed sites.
IRNA's publication of the infographic is yet another attempt to downplay the notion that the IAEA will be given more monitoring access to nuclear sites.
The IAEA and Iran had issued a joint statement at the end of Grossi's trip, just two days before a quarterly meeting of IAEA's 35-nation Board of Governors.
The statement went into little detail but the possibility of a marked improvement in relations between the two is likely to stave off a Western push for another resolution ordering Iran to cooperate, diplomats said. Iran has, however, made similar promises before that have yielded little or nothing.