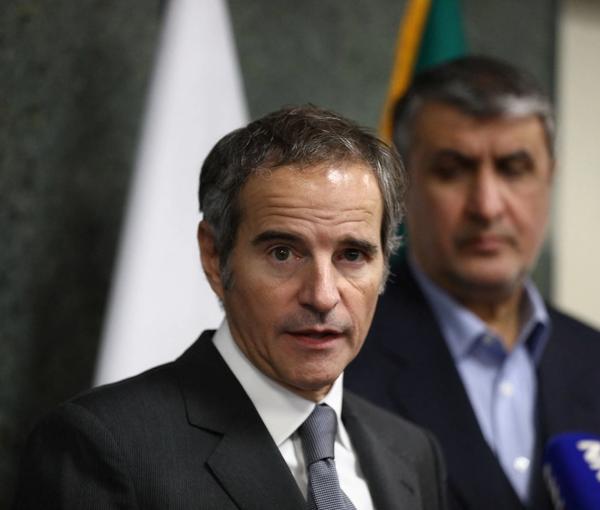 US And Europe Await Outcome Of IAEA Chief's Visit To Iran
Iran could face international sanctions if the results of International Atomic Energy Agency (IAEA) Director General Rafael Grossi's visit do not go its way.
The IAEA Director General, Rafael Grossi is visiting Iran this weekend, a move which will have implications globally.
The US Special Envoy for Iran, Rob Malley, announced that the United States would decide its next steps on the back of the visit, to conclude the level of compliance regarding its nuclear obligations.
"We're in very close contact with the E3 and others around the globe who are concerned about Iran's nuclear program, and we'll decide at that point," Malley said, speaking to at a J Street forum on Thursday.

Much hangs in the balance as the world awaits the results. The US and EU seemingly at odds over whether Iran should be censured at the IAEA Board of Governors meeting next week over traces of 84% enriched uranium detected at Iran's underground Fordo facility in January.
The Wall Street Journal's deputy Brussels bureau chief Laurence Norman said Friday that the Europeans will not move to censure Iran at the IAEA board meeting next week without US support. The issue is that he believes the Biden Administration is not inclined to do that.
"Iran tends to react to a censor by escalating its actions, either escalating its nuclear work or further restricting the ability of the IAEA inspectors to keep an eye on what Iran's doing. And I think there's a concern that that could very quickly lead to a crisis, which of course would be a crisis on top of the Russia one,' he said
"Regardless of what we do, our concerns about Iran exist, and they're not going away," Malley said during the J street discussion, citing concerns about the country's lack of cooperation with the IAEA.
"There are still a number of outstanding questions that they have repeatedly refused to answer; [including] the discovery of particles of uranium enriched at roughly 84%. We need some explanation as to that, and we're… waiting for the IAEA's…own assessment, and many other issues that the IAEA will raise with them."
Grossi's short visit which will conclude Saturday night, was instigated by the Islamic Republic, according to an IAEA tweet.
Tehran has shown in the past that it pays attention to the IAEA board meeting and usually makes a gesture of dialogue and diplomatic interaction prior to these meetings, hoping to prevent a damaging resolution.

Malley said it is believed that Iran has made new requests, but the outcome of the visit will depend on the government's transparency, which as yet, Malley said it has "failed to do now for a very long time".
The IAEA recently said it would not drop its probes into the nuclear capabilities of the Islamic Regime and its past nuclear activities including traces of uranium found at previously undeclared sites three years ago.
Depending on the results, a trigger mechanism could be activated, meaning harsher sanctions on the regime.