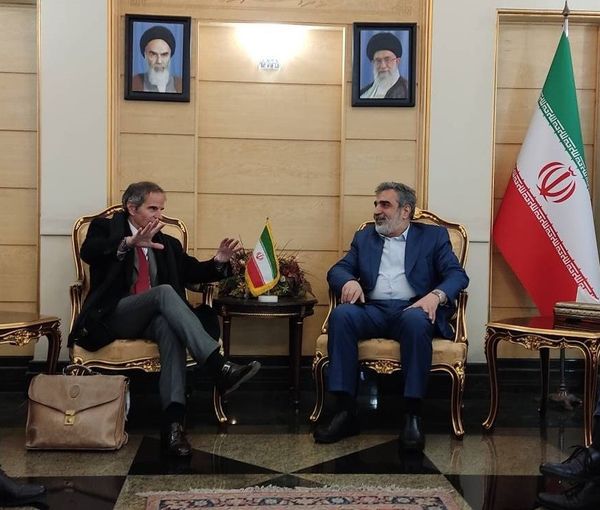 IAEA Head Arrives In Iran With Hopes Of Breakthrough In Cooperation
The head of the International Atomic Energy Agency arrived in Iran on Friday for high-level meetings, which the Islamic Republic hopes would break the deadlock in nuclear talks.
Upon arrival at the airport,Rafael Grossi was welcomed by the Atomic Energy Organization of Iran's spokesman Behrouz Kamalvandi, a deputy of the body's head Mohammad Eslami.
According to a diplomatic source, Grossi is scheduled to meet with Iranian President Ebrahim Raisi early Saturday morning, hoping to "relaunch the dialogue." "Grossi wants to have the opportunity to restart the relationship at the highest level," the European source added.
A US State Department official said Wednesday that Washington is waiting for the head of the UN nuclear watchdog to meet with Iranian officials before deciding on its next steps in response to Tehran's nuclear escalations, Al Arabiya reported.
The visit comes amid discussions with Tehran on the origin of uranium particles enriched to up to 83.7% purity, very close to weapons grade, at its Fordow enrichment plant, a report by the watchdog confirmed earlier in the week. Iran has rejected the claims of enrichment up to that level, with Eslami saying on Wednesday that the Islamic Republic's production is at 60 percent.
Iran began violating the 2015 nuclear deal's (JCPOA) enrichment limit set at 3.67 percent in 2019 when the Trump administration imposed full oil export sanctions, but until the Biden administration came to office higher enrichment had stayed at around 5 percent. The UN watchdog has been demanding other explanations from Tehran about its secret nuclear work before 2003 and so far there has been no resolution.