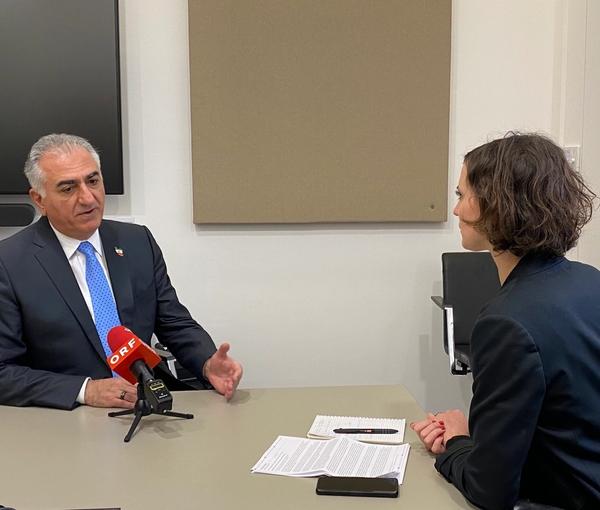 Exiled Prince Explains Why Europe Benefits From 'Revolution' In Iran
Exiled Prince Reza Pahlavi has once again called on Europe to embrace the "revolution in Iran" while enumerating the benefits of a secular democracy in Tehran. 
In thread of tweets extracted from his interview with Austrian national public broadcaster ORF on Thursday, Pahlavi said the strategy of European countries vis-a-vis Iran should be focused on empowering the people while isolating and weakening the Islamic Republic. 
Since Europe is geographically near the borders of Iran, it is especially exposed to challenges aggravated by the Islamic Republic, such as security risks and energy demands, he added, noting that the regime is "an unreliable and largely unavailable supply partner in energy," and "in commerce, an economic market that is neither attractive nor safe as a target for trade or investment."
He described the policy of engaging with the regime as "betting on a dead horse" and elaborated on how it works against the security interests of Europe. He touched upon some of the issues that the Islamic Republic has been creating for the European countries such as promotion of Islamic extremism and planning and perpetration of assassinations and terror plots on the continent. 
He referred to millions of asylum seekers at Europe's borders, underlining that most of these migrants are coming from the countries that have been hit by unrest due to the destabilizing acts by the Islamic Republic and its proxy militias. 
He particularly mentioned the regime's military support for the Russian invasion of Ukraine that has caused numerous problems for other European countries. Iran's Islamic government has supplied hundreds of drones to Russia since mid-2022 that have been used during missile attacks to swarm Ukrainian air defenses. Increasingly short of missiles to sustain its brutal bombing campaign of Ukraine's towns and cities, Russia has turned to Iran and also North Korea to replenish its stocks.
Prince Pahlavi also denounced the Islamic Republic's diplomatic blackmail via nuclear proliferation, warning the international community against negotiating with Iran as pundits believe that the regime will not be able to harness its growing inflation without lifting US sanctions.
He also talked about the policy of hostage-taking by the regime and using foreign nationals in the country as bargaining chips to get concessions from other countries. His remarks came on the same day that a hardliner newspaper in Tehran, which is funded by the Supreme Leader and its editor often speaks for Ali Khamenei, demanded that German embassy staff be banned from leaving Iran in response to expulsion of two Iranian diplomats from Berlin.
Pahlavi called it political shortsightedness "to engage the Islamic Republic rather than its opposition" especially at a time when the uprising of the people is yielding results and a secular democrat Iran "would solve many of Europe's prevailing security issues instantly."