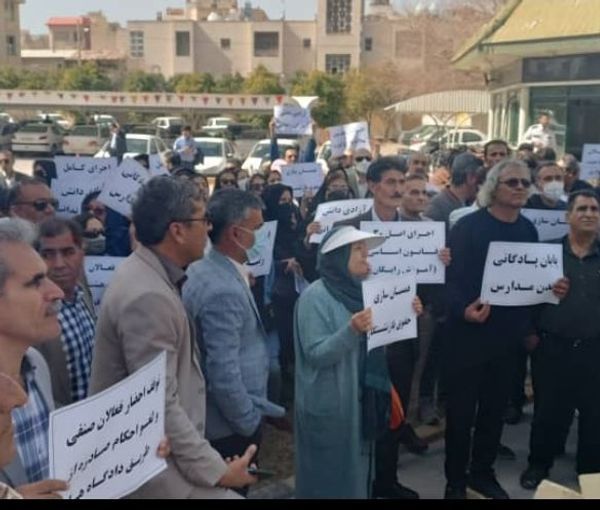 Iranians Hold Gatherings to Protest Poor Living Conditions
As the "Women, Life, Freedom" protests continue in Iran, various groups continue to protest the poor living conditions and the devaluation of the national currency as inflation topped 50%.
On Wednesday, several cities across Iran including Tehran, Ahvaz and Arak, were scenes of protests reflecting the desperation felt by the failure of the regime to deal with crippling economic conditions. Increasingly, ordinary people and many politicians criticize the government for its inefficiency and lack of a credible plan to deal with the financial crisis.
In the southern city of Ahvaz pensioners gathered in front of the social security building "to protest the poor living conditions and low level of their monthly benefits."
Retired teachers also held protests in Tehran to support colleagues whose pay is barely enough to live while also voicing opposition to unfair adjustment to pensions. Meanwhile, shop owners went on strike in Arak, resulting in stores across the city closing their doors as prices soared.
These daily protests are compounding the pressure on the regime as they come alongside the nationwide protests against the dictatorship that have swept the country for more than five months.
The Islamic Republic continues to show an iron fist in dealing with the protests that began with the death of Mahsa Amini in the custody of morality police in September, arrested for the inappropriate wearing of her hijab.
Over 500 people have since been killed by the regime forces according to rights groups, with several executed for their participation in protests. Thousands more have been arrested, including children.