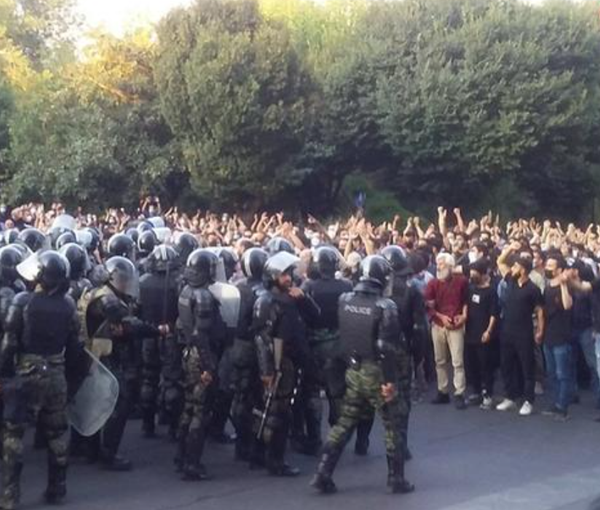 Politicians Speak Of Inefficiency, Widening Divides In Iranian Society
Jalil Rahimi Jahanabadi, a lawmaker from northeast Iran, has said that "our policies anger the young generation," and our economy has a mafia-like structure.
Jahanabadi further charged that Iranian officials do not believe in governance as an expertise and try to "re-invent the wheel" instead of learning from 200 other countries.
"Iranian politicians are constantly reinventing the wheel. They never ask themselves how their counterparts in 200 other countries treat and manage their national currencies and foreign exchanges. They do not believe in banking as a knowledge-based practice and an expertise. With all that I wonder why we are so complacent and always believe that we can correct the world," the lawmaker said.
He drew attention to the fact that officials during the past weeks claimed that the fall in the value of Iran's currency was the outcome of the protests. But they never ask themselves why it keeps falling even when the streets are calmer.
MP Jalil Rahimi Jahanabadi
Jahanabadi explained that when society is volatile, some people tend to invest in real estate in other countries. This has happened during the protests in 2017-2019. In 2022, a lot of capital left Iran for purchasing properties in Armenia, Georgia, Turkey and the United Arab Emirates.
Furthermore, at times of unrest, many shift their capital to gold and foreign currencies to prevent the devaluation of their assets. Iran's rial has fallen more sharply and is more vulnerable than even in Iraq and Afghanistan.
Jahanabadi maintained that almost everyone knows that "our political, economic, foreign and cultural policies need reform, but no one knows who should start that reform." However, he added: "As one of 290 Iranian lawmakers, I think this country needs essential reforms. We need to change the structures, methods, views and policies." He added that as a result of the current situation buying a house, a car and finding a job have been turned into a dream for many young Iranians. Why shouldn't they be depressed and desperate?"
Reformist politician Hassan Rasouli
Meanwhile, reformist politician Hassan Rasouli has said in an interview that Iranians' demands are miles apart from views held by officials. Top officials regularly make many false claims. He argued that the political system's main responsibility is to be responsive to the wishes of the people and this requires comprehensive, long-term and realistic plans.
Rasouli added that the current situation leaves no hope of improvement. Problems in Iran's domestic politics have left no international respect for Iran.
He was probably referring to the government's violent and ruthless reaction to recent protests in Iran and its ignorance of challenges in the international arena. What the officials have been doing in this regard so far, Rasouli said, has been nothing other than simply ignoring or denying problems, while inefficiency is visible in all economic, security, cultural and social matters.
On Thursday, economist Bahman Arman had said that decisions in the government are affected by the influence of a group that is against development and progress. He was probably referring to the intervention of ultraconservative figures, mainly the members of Paydari Party in the affairs of the government, and individuals like former nuclear negotiator Saeed Jalili who offer suggestions to the Raisi Administration on many matters including the nuclear issue without being accountable for the consequences of their intervention.
Like Rasouli, Arman also said that the government does not have an intelligent roadmap and as a result makes too many errors without trying to compensate for them later. As a result, said Rasouli, divides between the people and the government are likely to further widen and Iran's vanishing middle class is likely to be turned into a needy class, although government officials will probably continue to brag about a "progress" that as they claim makes Iran's enemies jealous.