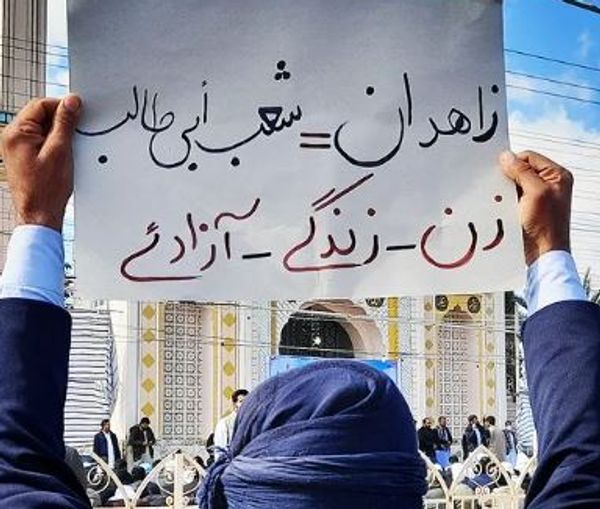 Top Sunni Imam In Iran Delivers Fiery Anti-Regime Sermon
Mowlavi Abdolhamid delivered yet another fiery sermon in southeastern Zahedan Friday while another Sunni imam, Mowlavi Gorgij, was put under house arrest in northern Iran.
"A government that does not listen to the voice of the people does not deserve to rule," said Mowlavi Abdolhamid in his Friday sermon in Zahedan, capital of the restive Sistan-Baluchestan Province.
Thousands of Abdolhamid's congregation took to the streets in Zahedan for the 16th consecutive week after his sermon and chanted "Down with the Dictator" and "Khamenei is a murderer, his rule is illegitimate".
The Sunni Baluch population have taken to the streets in Zahedan every Friday after prayers since September 30 when government forces cracked down on protesters and killed more than 80 protesters.
Similar protests were held Friday in Rask, another city in Sistan-Baluchestan, in support of Abdolhamid and Mowlavi Abdul Ghaffar Naghshbandi, another Sunni Baluch cleric. In the past four months Naghshbandi has been under pressure from the authorities for confirming that allegations of a police chief raping a fifteen-year-old Baluch girlwere not true.
A Revolutionary Guard commander, Brigadier General Mohammad Karami, was appointed as provincial governor three weeks ago. Security measures and restrictions in the province and particularly its capital Zahedan have escalated to an unprecedented level.
In his sermon this week, Abdolhamid also protested to the doubling of checkpoints in Zahedan. "Seven stop and search checkpoints have turned into fifteen," he said.
The new measures include at least fifteenconcrete block stop and search checkpoints on roads leading to Zahedan to control the flow of cars into the city, with security forces demanding identification and often questioning passengers. Internet connection has also been heavily restricted in the province since protests began four months ago.
Abdolhamid also argued that the government's unjustified security-driven attitude to Sistan and Baluchestan impedes development as it discourages investment and progress. "People will establish security themselves [if allowed]," he said.
By "security-driven attitude" Abdolhamid apparently meant the government's and the Shia establishment's general lack of trust in Sunni communities across the country. Some officials and Shiite clerics who see Iran's Sunni minority as a threat to the Shia establishment occasionally raise alarm over the growth of the Sunni population in Iran.
Over 1,300 kilometers north of Zahedan, in the northern Golestan Province where there are large Sunni Baluch communities living for decades, another Mowlavi (Imam), Mohammad-Hossein Gorgij, has reportedly been put under house arrest in Galikesh.
Sunni imam Mowlavi Gorgij
Gorgij who served as the Sunni imam of Azad Shahr, 35 kilometers from Galikosh, was dismissed as Friday Imam of the Sunni community of Azad Shahr in Golestan in December 2021 by Supreme Leader Ali Khamenei's representative in the province for protesting to Shiites slandering Sunni caliphs.
Khamenei's provincial representatives have the power to appoint and sack not only Shiite but also Sunni imams.
"Authorities have told me that my participation in Friday prayers is not befitting. My presence at Friday prayers is people's wish not my own," Gorgij told his supporters who had rallied outside his home in Galikosh Friday. "A government that is not on people's side is not worthy of ruling," he said.
Sistan and Baluchestan is Iran's largest but least developed province where around two-thirds of the population live in extreme poverty. The northern part of the province, Sistan, is predominantly Shiite while the southern part, Baluchestan, is Sunni majority.