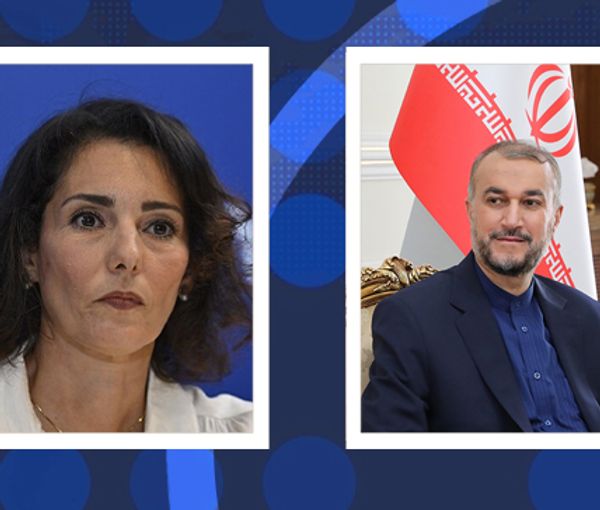 Iranian, Belgian FMs Hold Phone Calls Reportedly For Prisoner Swap
Amid simmering tensions over the fate of a Belgian aid worker sentenced to 40 years in prison in Iran, the foreign ministers of the two countries are in constant contact.
Belgium's Foreign Minister Hadja Lahbib and her Iranian counterpart Hossein Amir-Abdollahian held two phone conversations on Saturday and Monday – January 14 and 16. In the readout of both calls, the Islamic Republic's foreign ministry did not mention the case of the aid worker and only said the two diplomats discussed bilateral ties and ways to expand cooperation as well as latest state of consular cooperation between the two countries. 
Earlier in the month, the Islamic Republic's judiciary sentenced Olivier Vandecasteele, who was detained in 2022, to 40 years in prison and 74 lashes for alleged "spying and cooperation with the United States, money laundering and currency smuggling $500,000 out of Iran."
Vandecasteele, 41, has served in various international humanitarian organizations since at least 2006, including, Médecins du Monde, Norwegian Refugee Council (NRC), and Relief International. He worked in Iran for humanitarian organizations for more than six years and left the country. Later, he was lured back by "a girlfriend" and was detained in February 2022. A spokesman for Vandecasteele's family announced in December that he has been sentenced to 28 years in prison.
Belgian aid worker Olivier Vandecasteele
However, according to French daily Libération, Tehran has explicitly informed Belgium that Vandecasteele will only return to his country only if Asadollah Asadi -- an Iranian diplomat imprisoned in Belgium, returns to Iran. Assadi, 50, a former attaché at the Iranian embassy in Austria, was convicted of plotting to bomb a gathering of the exiled opposition group Mujahedin-e Khalq Organization (MEK) near Paris on June 30, 2018. He is currently serving a 20-year sentence in Belgium for "attempted murder and involvement in terrorism."
Earlier in the year, the Belgian parliament passed a law proposed by the government about a prisoner exchange treaty between Tehran and Brussels, creating an uproar in the international community since it could lead to the release of Assadi, and potentially turning Belgium to a safe haven for the agents of the Islamic Republic to operate in Europe. Numerous people and groups from around the world warned about the imminent perilous consequences of the prisoner exchange treaty, calling it "the green light to state terrorism" that only emboldens the Islamic Republic.
The phone conversations between Lahbib and Amir-Abdollahian took place a few days after the Belgian minister vowed at the parliament that her ministry would do its best to improve the conditions of Vandecasteele in prison and work for his release. She said her ministry is doing everything it can for the release of Vandecasteele noting that they have stepped up diplomatic efforts and are exhausting all possible leads. 
Asadollah Asadi, an Iranian diplomat imprisoned in Belgium
However, according to the Brussels Times, the liberal party in the parliament deemed such promises insufficient and called on Lahbib to travel to Iran and increase the political pressure on the Islamic Republic's authorities about his case. 
Belgium and Vandecasteele's family believe he is innocent and a victim of hostage taking by the Iranian regime.
In the past years, 49 European citizens have been arrested in Iran. Eighteen of them are still in prison, including the Belgian citizens. Two of them have been killed: one has been executed and one died due to lack of medical access.
There were speculations that the prisoner swap agreement would lead to Asadi's exchange with Swedish-Iranian professor Ahmadreza Djalali (Jalali), who was arrested during a working visit to Iran about seven years ago. He was sentenced to death in October 2017 on charges of spying for Israel.
Amnesty International released a detailed research and analysis paper in May to prove that Iranian authorities were threatening to execute Djalali to compel Belgium and Sweden to hand over Asadi and Hamid Nouri who is in prison in Sweden for involvement in mass execution of prisoners in 1980s, and "to deter them and others from future prosecutions of Iranian officials".
UN experts and international human rights organizations say that the Islamic Republic takes foreigners hostage to extract concessions from the West.