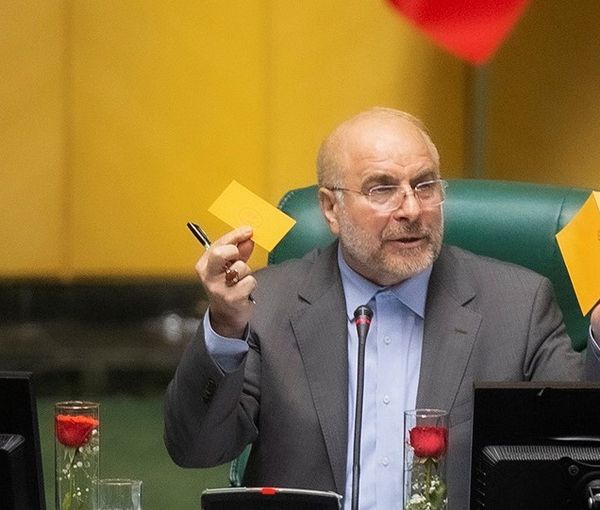 Politicians Look For Solutions in Iran To Save The Regime
As most Iranian officials, hardliner clerics and military commanders are adamant to suppress the ongoing protests, a few figures suggest alternative approaches.
The Speaker of Iranian parliament Mohammad Bagher Ghalibaf who had earlier introduced the idea of "a new form of governance," told reporters in Tehran January 1 that he is trying to reach a consensus among Iran's top officials to make changes in the system of governance in the Islamic Republic.
Ghalibaf added that economic issues are the top priorities in these meeting, while the current anti-regime protests are more about social and political liberties and establishing a democratic, secular political system than any economic demand.
This comes while, he has been paying visits to security forces to pay tribute to them for dealing with the protests. On the other hand, the latest photos of Iran's top officials showed Ghalibaf in his regular weekly meeting with President Ebrahim Raisi and Judiciary Chief Gholamhossein Mohseni Ejei and Vice President Mohammad Mokhber who took part in the weekly meeting for the first time. The photo shows Mokhber, a confidant of Supreme Leader Ali Khamenei, addressing the three top officials.
This could pretty much be one of those meetings in which Ghalibaf says he has been looking for a consensus about how to deal with the protests.
Ghalibaf had also met with some of Iran's top clerics last week when nearly all of those who "received" him criticized Raisi's economic policies and his government's inefficiency.
Mohammad Mokhber in joint meeting of heads of the three government branches last week
Despite the attractive rhetoric about "a new form of governance," Ghalibaf explanation about the idea leaves no room for unnecessary excitement. He said that "I believe the renovation of the system of governance should take place based on the ideas of Ruhollah Khomeini and Ali Khamenei."
Meanwhile, Ghalibaf praised Raisi for replacing the governor of the Central Bank and said he hopes the new governor would offer a solution for the falling Iranian currency rial, which has dipped to unprecedented lows since September.
In another development, a seasoned intelligence operative, former government spokesman Ali Rabiei has called for reforms in Iran, adding that "This is the best time to start reforms. Tomorrow might be too late."
Claiming that street protests have receded, Rabiei reiterated that this is the right time to send signals about reforms and to introduce new social policies. He said what prompted him to come up with the idea of quick reforms were the street protests, which he said are the result of economic difficulties and lost hopes in the future. He also mentioned the blow dealt against Iran by Chinese President Xi Jinping during his Middle east tour, which he said was inspired by Iran's internal crisis.
Rabiei added that the government should take lessons from these experiences and not repeat wrong domestic and foreign policies. He said wrong assumptions about international and regional developments has cost Iran many missed opportunities during the past four decades.
He also reminded top officials that resorting to reforms does not necessarily mean a retreat from previously declared policies.
An article along the same lines on the proreform Fararu website formulated the same by stating that the regime might not survive if it ignores the three crises of polarization in the society, the threat of hyper-inflation and the impact of regional and international isolation, adding that the government should find solutions for these three crises as soon as possible before it is too late.