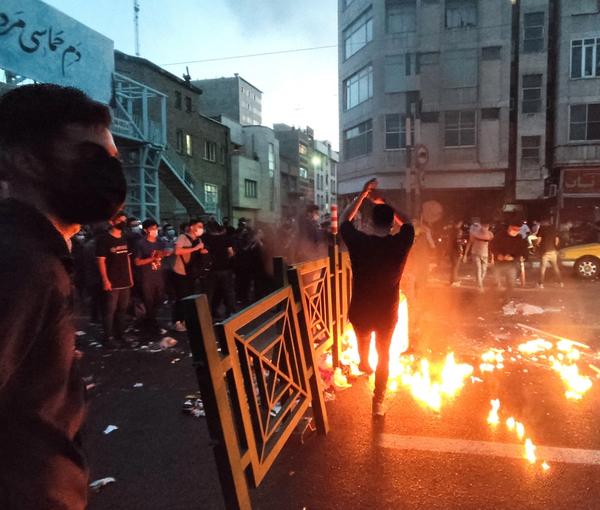 Iranians Welcome Joint New Year Message By Opposition Figures
Hundreds of thousands of Iranians have welcomed the same New Year Message tweeted by the former Crown Prince and several opposition figures as a sign of unity.
"In 2022, we witnessed the blossoming of unprecedented solidarity among Iranians of diverse backgrounds and beliefs," tweets posted simultaneously on the eve of the new year by the former Crown Prince Reza Pahlavi, footballer Ali Karimi, actor Golshifteh Farahani and activists Nazanin Bonyadi, Masih Alinejad and Hamed Esmaeilion said in Persian, in some cases accompanied by English versions.
"Through further solidarity and organizating, 2023 will be the year of victory for the Iranian nation, and the achievement of freedom and justice in Iran," the tweets said.
Some other prominent figures such as Iran's Peace Nobel Laureate Shirin Ebadi and many activists have also shown support by sharing the same greeting message on their social media.
Clockwise: Reza Pahlavi, Masih Alinejad, Ali Karimi, Hamed Esmailion and Nazanin Boniadi
The greeting messages have received a total of around 400,000 likes, thousands of positive comments and been retweeted extensively since the posts were published although some social media users have not been as enthusiastic.
Given the regime's policy of silencing voices of dissent, many Iranians who are fighting on the streets to topple the regime have invested their hopes for a leadership to emerge for their 'revolution' with an eye on influential opposition figures abroad who can represent them in the international community.
Accordingly, many Iranians have been incessantly urging opposition figures to join forces to provide leadership to Iran's hitherto 'leaderless revolution.'
"This was a great move by the Crown Prince, Masih and others," a young man in Tehran who since the very beginning of the protest movement has been fighting the regime security forces on the streets, and on social media, told Iran International.
"The regime has always tried to divide the opposition to conquer, but this move neutralizes their efforts and can help unite the supporters of individual figures who have shown solidarity with their New Year greeting. Unity is our key to victory [against the regime]," he added.
Many allege that posing as 'revolutionaries' and supporters of opposition figures, the cyber-army of the Islamic Republic is trying more than ever to divide the opposition and supporters of influential figures abroad such as the former Crown Prince and Hamed Esmaeilion by muddying the waters with fake news, negative commenting, making accusations, and aggressively attacking those perceived as rivals.
The former Crown Prince said at a press conference in late October that "supporting the movement inside the country and cooperation [between those] in Iran and abroad" was the most important requirement for success against the regime and that the opposition had to send a united message to the international community.
The warm welcome this first sign of solidarity among diaspora opposition figures has received needs to be followed up by more concrete messages of unity. "A joint [-ly prepared] tweet for the new western year may be a positive political performance but is not necessarily a [sign of] a 'coalition'," Elahe Boghrat, chief editor of the London-based Kayhan warned in a tweet.
New York-based sociologist Majid Mohammadi told Iran International that the short greeting message posted with coordination was a harbinger that the opposition could organize and unite in the future. People expect those who issued this coordinated message to create bodies to support their revolutionary movement legally, logistically, and intellectually to help it focus on its goals and move forward.