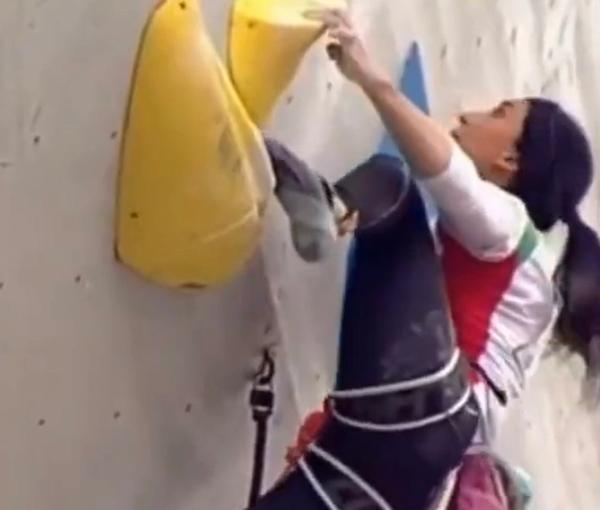 Iranian Climber Who Ditched Hijab Receives Hero's Welcome
Elnaz Rekabi, the Iranian climber who appeared without hijab in the finals of competitions in South Korea was greeted by a welcoming crowd as she returned home.
However, the vehicle carrying her didn't stop and passed through the large crowd of well-wishers who were shouting her name.
Shortly after, state media published a video interview of Rekabi in the airport arrival hall, in which the athlete called her move to appear without hijab "inadvertent," but many believe she has made the statements under the pressure of regime agents.
People on social media say the regime tried "to break this brave woman," force her "to repudiate her own convictions, and discredit" her among hundreds of thousands of young girls who admire her but as always, "they failed."
It was on Sunday that Rekabi participated in the finals of the Asian Championship without the mandatory hijab, and her action quickly made headlines as she had already broken the taboo very publicly.
She disobeyed the Islamic Republic's restrictions for female athletes, she made history by representing Iran unveiled, in what was seen as support of anti-hijab and antigovernment protests that have been raging across the country since mid-September, when 22-year-old Mahsa Amini was killed in the custody of hijab police.
After the coverage of Elnaz Rekabi's move, a story was published on her Instagram page, in which she apologized for what happened and said her hijab had "unintentionally caused a problem."
Before publishing this story there were many reports about her "disappearance", and after the publication, many called it a "forced confession."
In the past days, some media reported the arrest of Davoud Rekabi, the rock climber's brother, as well as her sister by the Revolutionary Guard.
On the other hand, based on information received by Iran International, Rakabi's cell phone is not in her possession any longer.
Rekabi's move was widely covered by the international media. The Guardian and the Financial Times published photos of Elnaz Rekabi on their front pages and wrote about her uncertain fate.
Various international figures also praised the action of the Iranian athlete. Chris DeBerg, the famous British-Irish singer, republished Iran International's news about Rekabi's action, and wrote in her support, "Well-done Elnaz!"
Jessica Chastain, a famous Hollywood actress, also reposted a post about Rakabi and wrote, "Iranian athlete Elnaz participated in an international competition without the mandatory hijab as a sign of protest and solidarity with the women of her country."
About 30 Iranian athletes in recent years have defected from national teams and sought asylum in other countries due to a lack of attention, threats, and corruption in their federations as well as Iran's policy of not allowing athletes to compete against Israelis. For women, mandatory hijab is also an issue.
In 2019, boxer Sadaf Khadem attended a boxing match with the Iranian flag and without a headscarf. She had to cancel her return flight to Tehran after a warrant was issued for her arrest.
Earlier this week, Iran's Supreme Leader Ali Khamenei called on sports people to adhere to "religious beliefs," reiterating that not competing with Israeli athletes is a victory.