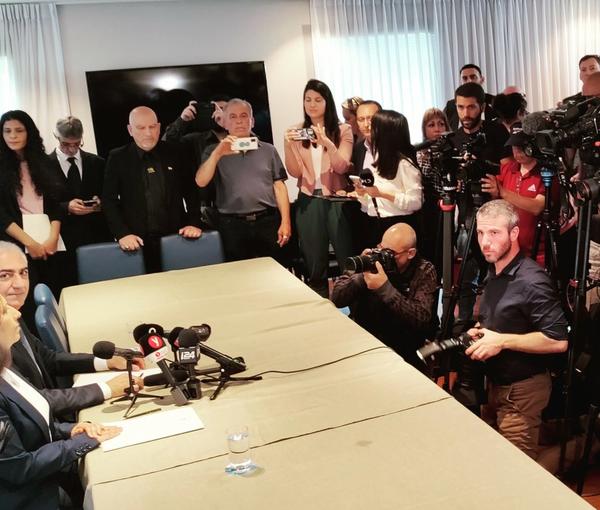 Imagine Ties With Secular, Democratic Iran, Pahlavi Tells Israelis
Iran's exiled prince Reza Pahlavi, who is on a historic visit to Israel, expressed hope for amicable relations once Iran becomes a secular and democratic country.
During a joint press conference with Israel's Intelligence Minister Gila Gamliel, who is hosting Pahlavi, in Tel Aviv on Wednesday, Pahlavi said that Iranians are the extreme opposite of the country's current rulers, and that the regime does not represent the Iranian nation. 
He added that Iranians are thrilled to see the son of their last shah is spreading the message of peace with Israelis on their behalf. "They have no antagonism to any nation or any faith," Pahlavi said. 
"I know that Iranians and Israelis see how important it would be for our future to be strategic partners, to work together, to address many issues. I come here to convey this message to Israeli citizens," he said.
Iran's exiled prince Reza Pahlavi during a press conference in Tel Aviv on April 19, 2023
As he was welling up and holding back tears, Pahlavi said, "The amount of affection and emotions demonstrated by the Iranian Israeli community, but also regular Israeli citizens, has been overwhelmingly warm and welcoming, and it has affected myself and my wife very much... What you see in me is not just me, it's millions of voiceless Iranians who feel the same emotions being in captivity, in repression."
He noted that the Islamic Republic brought the situation to the point "when once a proud nation has been faced with the designation as a terrorist nation."
Pahlavi then talked about the prospects of peace and calm in the region when the Islamic Republic collapses. "Imagine a different Iran, not ruled by a religious dictatorship, but [what] a secular democratic Iran could mean for our region, for stability and how it would impact the world positively," he said.
He also enumerated some of the negative impacts of the Islamic Republic on the globe "from the nuclear threat, to spread of Islamic radicalism, and support for terrorism." 
He said he is in Israel "to explore how we can cooperate in helping the Iranian people in their campaign for freedom," referring to the "Women, life, liberty" movement. He described the uprising as "the first modern day – or all time perhaps" women-led revolution. 
He also reiterated that he is not seeking the throne in the future of Iran but only wants to help the people of the country to establish a constituent assembly and hold a referendum. 
Referring to the 2020 US-brokered Abraham Accords aimed at normalizing relations between Israel, the United Arab Emirates and Bahrain, Pahlavi also expressed hope for a "Cyrus Accord" for peace between Tehran and Jerusalem.
While Pahlavi was promoting peace with the Israelis, Islamic Republic's President Ebrahim Raisi threatened to destroy the Israeli cities of Tel Aviv and Haifa in an inflammatory speech in Tehran on Tuesday. 
During his stay, Pahlavi visited the Wailing Wall and attended the ceremony to mark Israel's Holocaust Remembrance Day at the Yad Vashem memorial in Jerusalem. He also met with Prime Minister Benjamin Netanyahu and President Isaac Herzog in the past two days.
Netanyahu, in his opening remarks at the Remembrance Day event, pointed to the similarities between the Islamic Republic and the Nazis, saying that Israel's victory in the future requires constant determination and fight against those who seek to kill Israelis. 
"That is why we firmly fight any nuclear agreement with Iran, which would pave its way to nuclear weapons," he said, adding that "Those who seek to wrap us in a stranglehold of terror will encounter an overwhelming response." 
The prince and Minister Gamliel also visited Sorek desalination plant Wednesday evening, as part of Pahlavi's intention to learn about how Israel is coping with the challenge of water, given a crisis in Iran.
In 2021, large-scale water protests took place in Iran, with several people killed and hundreds injured by security forces. Water reservoirs are at an all-time low, threatening nationwide rationing soon, local media and officials say.