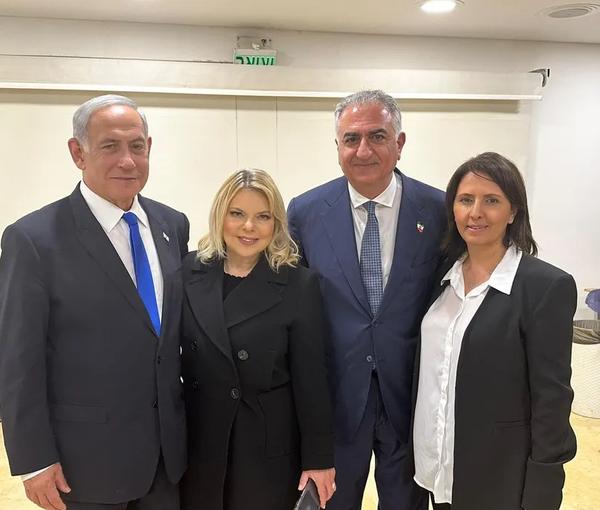 Iran's Exiled Prince Meets Netanyahu Amid Tensions With Tehran
Prince Reza Pahlavi, a leading opposition figure visiting Israel, held a brief meeting with Prime Minister Benjamin Netanyahu Monday as he made a historic visit to Israel.
Pahlavi attended a ceremony held at the National Holocaust Memorial and Museum, Yad Vashem, as part of the Holocaust Remembrance Day. He stood alongside Netanyahu and Israel's President Isaac Herzog but did not deliver a speech. Later he held a meeting with Netanyahu in the presence of Israel's intelligence minister Gila Gamliel.
This is the first time a prominent Iranian political figure has paid a public visit to Israel. Before leaving for Israel on Sunday, Prince Pahlavi tweeted that he wanted, "to deliver a message of friendship from the Iranian people…and pay respects to the victims of the Holocaust on Yom HaShoah."
There are no reports so far about what Netanyahu and Pahlavi discussed during their brief meeting, but a photo showed the two deeply engaged in conversation.
The visit comes as Israeli officials and media commentators have raised increasing concern over Iran's intensified efforts to create instability in and around Israel.
Speaking on Sunday at a memorial service, Israeli Defense Minister Yoav Gallant warned, "Iran is waging a multi-front war of attrition against the State of Israel," adding that it was "continuing its attempts to establish itself on the northern front and at the same time sending its proxies to Judea, Samaria and Gaza."
However, Gallant said that Israeli Defense Forces (IDF) have "acted and will continue to act in all arenas, in overt and covert operations along the border, across the border, and even far from the border."
Israeli Defence Minister Yoav Gallant attends a news conference with U.S. Secretary of Defense Lloyd Austin at Ben Gurion Airport in Lod, Israel, March 9, 2023.
IDF is braced for possible attacks by Iran-backed militias, which launched several rounds of strikes earlier this month on Israel's southern and northern borders. In an unprecedented development in recent times, the attacks originated from Syria and Lebanon as well as the Gaza Strip.
Flames rise above Gaza City, during an Israeli air strike on April 7, 2023.
Analysts believe that the Islamic Republic intensified attacks by its allies and proxies in the belief that Israel is at a weak point, due to internal political unrest caused by Benjamin Netanyahu's plans to overhaul the country's judicial system.
On Sunday, the Jerusalem Institute for Strategic Studies published a statement, warning of the prospect of a war with Iran, and urging Netanyahu to suspend his judicial overhaul plan considering the intensified threats by Tehran.
"Israel is seen from the outside as a torn society, gradually losing its ability to function," the think tank said, echoing last week's remarks by former National Security Advisor and former Maj.-Gen. Yaakov Amidror.
"Israel's enemies are gaining confidence and expect the internal conditions in the Jewish state to lead to self-destruction," it added, warning, "The chances of a deterioration into a wider conflict are more significant today than before... Israel needs to prepare for the tangible possibility of war."
Netanyahu, also speaking at Sunday's memorial service, said that Israel must always be able to defend itself, adding that if other powers such as the US want to mobilize to help, that is good, "but we cannot build our national security on the foundations of others."
His statement is indicative of Israeli concerns over Washington's hesitation to help Israel militarily in case of a confrontation with Iran, especially considering the Islamic Republic's recent détente with Saudi Arabia.
Also on Monday, Israeli Foreign Minister Eli Cohen held a meeting with American senior Republican Senator Lindsey Graham, who arrived in Israel from a visit to Saudi Arabia, stressing the need for strong Washington-Jerusalem coordination to prevent a nuclear Iran.
Netanyahu met with Graham on Monday and talked about Israel normalizing relations with Saudi Arabia, saying it would be a "giant leap" towards ending the Arab-Israeli conflict.
Netanyahu said, "We want normalization and peace with Saudi Arabia...This agreement could have monumental consequences, historic consequences both for Israel, for Saudi Arabia, for the region and for the world."
Cohen said, "Cooperation between Israel and the United States is necessary to stop the Iranian nuclear program, which is a global threat.
"The way to change Iranian behavior is through massive economic and political pressure, in every sector of Iranian interest," coupled with a credible "military threat against it."
Tehran turned to Lebanon's Hezbollah to initiate the latest episode of its proxy war against Israel, during which Hezbollah fired a surveillance drone toward the Galilee on April 1 that was shot down by Israel. From April 5-7, Palestinians affiliated with Hamas and based in Lebanon fired fired 34 rockets at Israel. On April 8 and April 9, six rockets were launched from the Syrian side of the Golan Heights.
According to a report in The Wall Street Journal, prior to the most recent coordinated attacks, Esmail Ghaani, the leader of IRGC's Quds Force, hosted representatives of Hezbollah, Hamas and Islamic Jihad – all of which designated as terrorist groups by the US and several other countries – at the Iranian embassy in Beirut in March and April.
On Saturday, spokesman of Iran's Revolutionary Guard Ramezan Sharif said that the US is too weak to be able to militarily support Israel in the region.