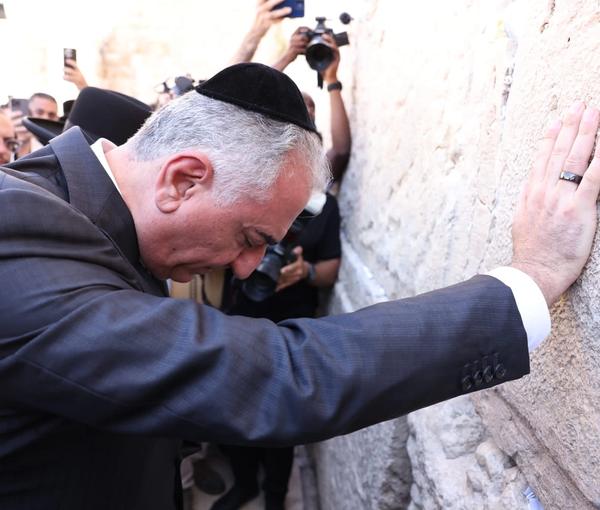 Exiled Prince Prays In Jerusalem For Resuming Iran-Israel Ties
Prince Reza Pahlavi has prayed for peace between Israel and Iran on a visit to the Western Wall in Jerusalem on Tuesday.
The exiled son of the Shah voiced his hopes that one day in the future the two nations can resume their historical friendship.
Publishing a photo of himself at the Western Wall on Tuesday, Pahlavi tweeted that 2,500 years ago, Cyrus the Great liberated the Jewish people from captivity and helped them rebuild their Temple in Jerusalem.
He said: "It is with profound awe that I visit the Western Wall of that Temple and pray for the day when the good people of Iran and Israel can renew our historic friendship."
He quoted a verse from the Holy Hebrew Bible saying, "So said Cyrus, the king of Persia, 'All the kingdoms of the earth the Lord God of the heavens delivered to me, and He commanded me to build Him a House in Jerusalem, which is in Judea.'"
He also read Psalms, guided by a local rabbi, while praying for peace between the two nations.
Pahlavi's visit with his wife to the Western Wall on Tuesday morning had been arranged by Israeli Intelligence Minister Gila Gamliel.
While hundreds of others prayed at the Western Wall during the Holocaust Memorial Day siren, Pahlavi stood in reflection with the rest of the congregation for two minutes.
As part of his historic visit to the Jewish state, Pahlavi also met with Israel's Prime Minister Benjamin Netanyahu in Jerusalem and attended a Holocaust Remembrance Day ceremony at Yad Vashem. Although he stood alongside Netanyahu and Israel's President Isaac Herzog, he did not make a speech.