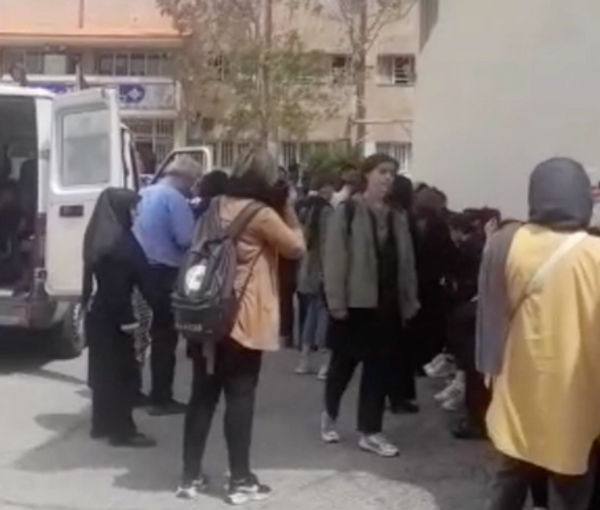 School Attacks In Iran Continue As Regime Focuses On Hijab Enforcement
While gassing continued in Iran's schools Monday, Iranians want answers as to who is responsible.
Moineddin Saeedi, a member of the Iranian Parliament from Chabahar in Sistan and Baluchistan Province, criticized the police's move to use traffic cameras to identify women removing hijab. He said, "If these cameras can detect crimes to such an extent, why are we currently facing the poisoning of girls?"
He added that the use of modern technological capabilities should be prioritized on issues such as delinquency, theft, pickpocketing, extortion and poisoning of female students.
Multiple girls' schools in the capital Tehran, Karaj, Khoy and Orumiyeh (Urmia) in the West Azarbaijan province, and Sanandaj in Kordestan province were attacked by poisonous chemicals Monday, a week after the schools reopened following New Year holidays.
On Sunday, people in the Kurdish majority city of Saqqez -- the hometown of Mahsa Amini whose death in the hands of hijab enforcers ignited the current uprising – held a rally with security forces reportedly opening fire to disperse the protesters.
The demonstrations occurred after at least six girls' schools in the city were attacked by the mysterious gas. On Monday, shop owners refused to open their businesses in protest against the regime's inaction or possible involvement in the poisonings.
Closed shops in the city of Saqqez on April 10, 2023
Since last week, scores of schoolgirls have been taken to hospital with symptoms of gas poisoning, such as difficulty in breathing, nausea, headache and muscle cramps.
Shocked by the news of the death of a Kurdish teenager, Karo Pashabadi, who died as a result of an attack on a Tehran school, innumerable social media users have started asking questions about the fate of those who are being hospitalized due to the phenomena.
Sixteen-year-old Karo, from the city of Kamyaran in Kordestan province, was laid to rest in Pashavah village about a month after inhaling poisonous gas in a chemical attack on a school in Tehran, where he was living.
At least one other child, 11-year-old Fatemeh Razaei, has died in the attacks which began on November 30 and have taken place in hundreds of schools nationwide.
Close to 300 schools were targeted in the past Iranian year ending on March 20 without any apparent effort by the government to seriously pursue the perpetrators or explain to terrified parents and students what was happening in so many schools. Thousands of students have been affected, mostly girls, with hundreds more hospitalized with symptoms including respiratory distress, numbness in their limbs, heart palpitations, headaches, nausea, and vomiting.
Ordinary Iranians have been suspicious of the involvement of the regime itself, or religious extremists protected by the regime, calling the attacks "state terrorism," although the regime has denied responsibility and even staged arrests of suspects after widespread protests. Popular belief is that such large-scale and coordinated attacks cannot happen without the green light of the regime's authorities.
Rasool Nafisi, a professor of sociology of development at Strayer University in Virginia, told Iran International on Sunday that the hardliners of the regime are the ones who benefit from the spread of such attacks as an intimidation tactic. "The government intends to use chemical attacks in the future to quash the uprising of the people, especially women and girls," he added.
Referring to a burglary case in which the CCTV cameras captured the faces of the thieves, Mahmoud Sadeghi, a reformist politician and former lawmaker, said in a tweet on Sunday that "It's more than two years that they (police) have taken the complete video of the theft from the apartment, in which the faces of the thieves can be clearly identified from several angles. They have not yet provided any information about the burglars or the lost property. Now they want to use smart equipment to file legal cases for people in the streets and alleys."