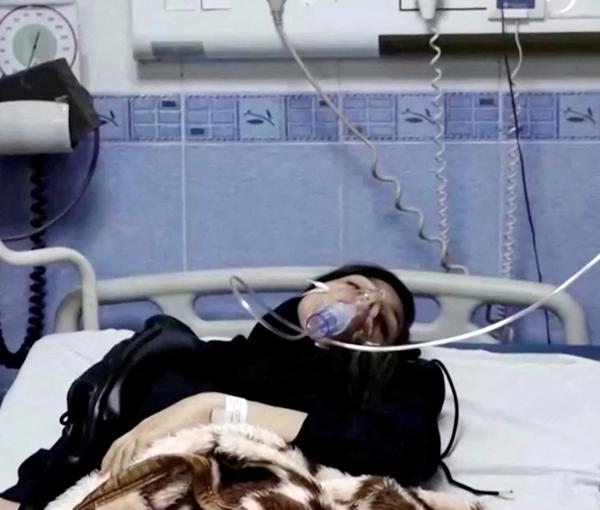 Iran Pleads 'Innocent' Over Schoolgirls' Serial Poisonings
In a report to the UN Human Rights Council, Iran has responded to accusations over the mass gas attack poisoning of schoolgirls, declaring itself "innocent".
Radio Farda, the Persian Service of US government funded Radio Free Europe (RFE/RL) said it has received a copy of the letter sent by Iran's Mission to the United Nations which is based on the statements of the Ministries of Interior and Health and other government institutions, along with the remarks of the Supreme Leader Ali Khamenei, President Ebrahim Raisi and the judiciary chief.
The letter claims that less than ten percent of the students experienced symptoms of poisoning, and all were transferred to the hospital and discharged in a short time. It further alleges that only four students needed hospitalization for more than two days.
Some of the schoolgirls hospitalized with symptoms of poisoning
In the letter, the Islamic Republic however noted that students in 250 classrooms in 52 schools in different cities were poisoned.
This comes as Iran's Ministry of Health said early last week that 13,000 students were poisoned in 100 cities of 28 provinces.
Some Iranian media say at least 30,000 students were poisoned within the past couple of months.
Hundreds of schoolgirls -- who have been at the forefront of anti-regime protests - have been chemically poisoned since November 30 when the first case of a mysterious poisoning was reported in the religious city of Qom.
While the Islamic Republic has been fiercely cracking down on dissent, many believe it was involved in the serial chemical attacks on schoolgirls. Activists and right groups have called on the international community to pressure the regime over the issue.
A day after the letter was sent, eight experts of the United Nations said the Iranian regime committed "intentional"poisoning and instead of confronting the attacks and conducting a quick investigation, it put its efforts into covering up the incidents.
Last week, the European Parliament adopted a resolution to decry the regime's months-long failure to act on the serial poisonings, as well as its deliberate suppression of credible reports of systematic toxic attacks.