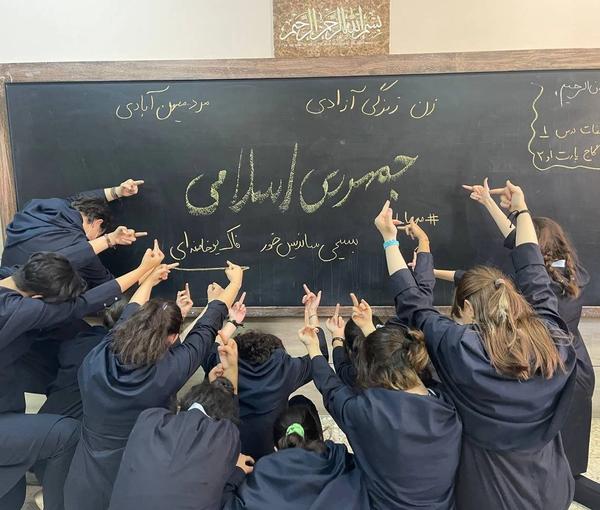 Chemical Attacks On Girls' Schools In Iran Go Unpunished
No one has been arrested three months after the first chemical attack on a girls' school in Iran, amid a new spate of attacks affecting at least 26 schools Wednesday.
Interior Minister Ahmad Vahidi said at a press briefing Wednesday afternoon that so far no one has been arrested for the mysterious poisoning of girls at schools across the country and no chemical agent responsible for the poisonings has yet been found.
The IRGC-linked Fars News Agency had reported the arrest of three individuals earlier on Wednesday.
Vahidi who was assigned by President Ebrahim Raisi at the cabinet meeting Wednesday morning to urgently investigate the incidents also denied that the poisonings, apparently by toxic gases, have caused paralysis in any of the students. He claimed that the symptoms in over 90 percent of the students were induced by stress.
An artwork about the poisoning of schoolgirls
On Wednesday at least 26 more schools were attacked including over a dozen in the capital Tehran, six in Ardabil, two in Kermanshah, and one in Esfahan. In several cases security forces and police used violence against outraged parents who chanted slogans against authorities outside schools.
It is shocking for the public that the government has so far made no arrests or identified suspects, as well as providing extra security around schools. Later on on Wednesday, the United States urged Iran to investigate the poison attacks, a US State Department spokesperson said.
In a tweet Wednesday, prominent journalist Abbas Abdi said the attacks would have already ended if authorities had been as vehement to catch those responsible for the attacks as they are in silencing the poisoned girls' families.
Children's parents shouting "Death to the child-killing regime" and "Death to the Dictator" outside a girls' school in Tehransar in a western suburb of Tehran.
Hundreds of schoolgirls have been hospitalized in various cities across the country since November 30 when the first case of a mysterious poisoning was reported in the religious city of Qom. Attacks have been widespread in Qom and Boroujerd in western Iran so far where tens of schools have been affected. The first attack in Tehran was reported Tuesday. Boys' schools were attacked only in a few rare cases, including a primary school in Parand Town in the south of the capital, on Wednesday.
Authorities who at first dismissed the reports of poisonings in Qom and attributed the incidents to "children's pranks" or other reasons including faulty heating, have now admitted that at least 1,200 students were affected by the mysterious fumes.
As many Iranians have said on social media that the attacks are the work of religious zealots who want to prevent girls from attending school, hardliners have tried to blame regime opponents.
Tehran municipality's Hamshahri newspaper, a hardliner mouthpiece, dubbed the poisoning incidents "A Poisonous Project" and suggestively printed images of opposition figures including the former crown prince Reza Pahlavi, Mujahedin-e Khalq (MEK) leader Maryam Rajavi, and activist Masih Alinejad on its frontpage Wednesday. "By using the students' poisonings, anti-revolutionaries are trying to cause anxiety among people," the newspaper wrote.
Schoolgirls at a Tehran hospital Wednesday suffering from short breath and other symptoms including lethargy.
Prince Reza Pahlavi in a tweet Tuesday accused the regime of responsibility for systematic attacks on girls' schools. Alinejad has also accused the regime and said it is taking revenge on schoolgirls for their participation in the Woman, Life, Freedom protests.
Many parents say on social media that they will not send their girls to school to keep them out of harm's way but Alinejad has called on male students to boycott classes in their schools and universities on Saturday in support of schoolgirls.
State media and hardliners blame the MEK, which has a long record of terrorist attacks in Iran in the 1980s, more often than anyone else. "I have no doubt that the MEK or other hostile and anti-revolutionary groups are involved [in the poisonings]," lawmaker Ahmad Rastineh said Wednesday.
Another lawmaker, Mohammad-Tala Mazloumi, also blamed the MEK and similar groups, which he said aim to disgrace the Islamic Republic and its educational system, while also pointing a finger at Israel.