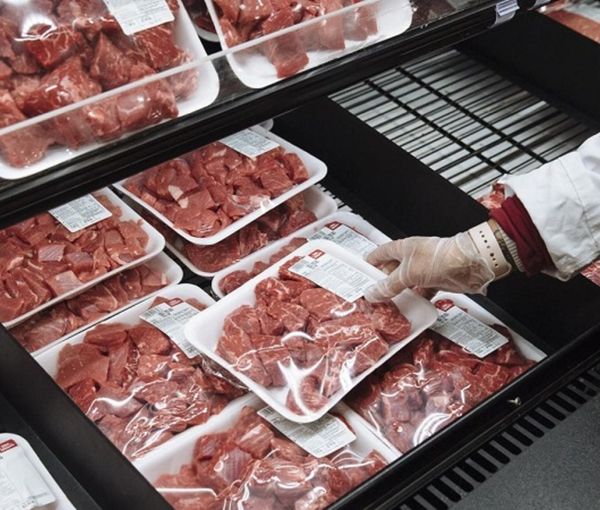 Exclusive: Secret Letter Reveals Iran's Predicament In Controlling Food Prices
Iran's national security chief has warned the government of looming food shortages and higher prices, a top-secret letter obtained by Iran International reveals. 
In the confidential letter, dated February 5, the secretary of Supreme National Security Council (SNSC) Ali Shamkhani briefed President Ebrahim Raisi of a meeting with food importers and other officials of the agriculture ministry. 
Shamkhani expressed concerns about prices of animal feed, particularly warning that prices for maize, barley and soybean meal will rise, affecting the production of poultry, eggs, red meat, milk and dairy products. He said the prices of soybean meal will probably double in the next few weeks, leading to a jump in the cost of meat. 
According to the letter, the country will also face a shortage of maize or corn within one or two months as Brazil – which had been replaced by many countries as the main exporter – has run out of the produce and Ukraine will not supply Iran with its needed corn.
Iran has been supplying Russia with kamikaze drones that are used against Ukrainian infrastructure targets.
To provide the needed corn, Iran should buy from intermediaries, which will cost $30 to $40 more per ton, Shamkhani noted.
Iran's economy, especially imports, are tightly controlled by the government that supplies the hard currency needed. The private sector has become largely dependent on the government for obtaining US dollars to import raw materials and food. With US sanctions crippling Iran's oil export revenues, the government is short of hard currency and the Iranian rial has dropped by more than 60 percent in six months.
A sample of the letter obtained by Iran International
The letter also revealed that the Islamic Republic has not finalized any contract with foreign sellers for the coming months. Soybean meal, barley and corn for livestock and chicken feed are mainly imported from Russia and other countries. Iran annually imports around 8 million metric tons of corn, 4.2 million metric tons of soybean meal, and 400,000 metric tons of barley for animal feed. Any shortages or higher prices can further push up the price of meat. 
Head of the Meat and Protein Industry Association of Iran said last week that amid reports about a sharp increase in food prices demand for red meat has decreased by 50 percent in the past one year.
Shamkhani also said that the Central Bank of Iran has not allocated any foreign currency to provide for animal feed in the past 37 days because the foreign currency transfer line via Trade Bank of Iraq has faced difficulties.
Recently, the United States imposed tougher regulations on Iraqi bank transfers to restrict Iran's money laundering ability in the neighboring country. The secret letter proves that indeed Iraq was used to obtain US dollars.
The letter also revealed that the county needs about $1.4 billion for clearance of the goods that are stuck at the countries' ports due to a lack of foreign currency. 
Iran's Customs Administration said earlier in the month that at least eight million tons of essential goods have been piling up on ships anchored off the country's southern ports apparently mainly due to payment issues.
According to a report by Tasnim news agency, affiliated with the Revolutionary Guard, the deputy head of the Customs Administration has recently said that ships are stranded at Persian Gulf ports waiting to unload their cargo.
Importers need to receive US dollars or other foreign currencies from the government to pay suppliers before the ships would anchor at the ports and discharge their cargos. Iran is currently in a crisis for not having enough foreign currency and the US dollar has reached a historic high. One dollar can buy 500,000 Iranian rials, while five years ago the exchange rate was around 35,000.
In January, Iran's judiciary chief Gholam Hossein Mohseni Ejei said tens of ships have arrived in territorial waters of the country, but the Islamic Republic cannot unload them therefore the country must pay fines for the delay in discharging cargos. The delay in payments is the main reason that has disrupted flows of goods into the country.