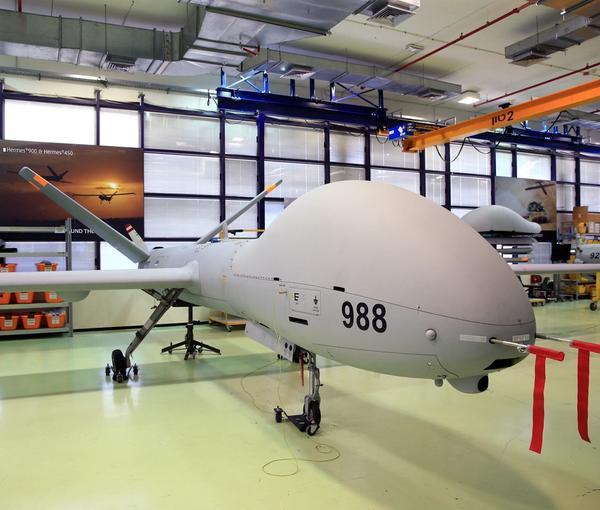 Large Israeli Drones Using Free-Falling Bombs, Can Carry Up To A Ton
Large Israeli drones use gravity bombs of up to one ton that produce no noise or smoke, making them hard for enemies to anticipate or evade, the military says.
After more than two decades of secrecy, Israel in July went public with the existence of armed drones in its arsenal.
Briefing Reuters, a senior Israeli military officer said the armed drone fleet includes the passenger plane-sized Heron TP, made by state-owned Israel Aerospace Industries Ltd ISRAI.UK, and Elbit Systems Ltd's ESLT.TA smaller Hermes.
The former, the officer said, "is the heaviest drone that the IDF (Israel Defense Forces) has, which can carry munitions, with an effective payload of around a ton".
Such drones can be potentially used against hardened Iranian nuclear facilities in case Israel decides to carry out its threat of taking action to prevent Iran from developing nuclear bombs.
The Israeli manufacturers do not publicize the armed capabilities of the drones, under what industry sources have described as a Defense Ministry secrecy policy.
The officer, not identified in line with military requirements given the sensitivity of the subject, said any sales of bomb-capable drones would be government-to-government, negating the need for publicity.
All the drone munitions are Israeli-made, the officer said, and "come down in free-fall, and can reach the speed of sound".
Such bombs would not have propulsion systems that generate the tell-tale noise and smoke of fuel afterburners.
The officer declined to give further details on the munitions, saying only that, by design, when an armed drone attacks "no one will hear it, no one will see it coming".
This would assume enough altitude so that the drones' propeller engines cannot be clearly heard on the ground.
With Reporting by Reuters