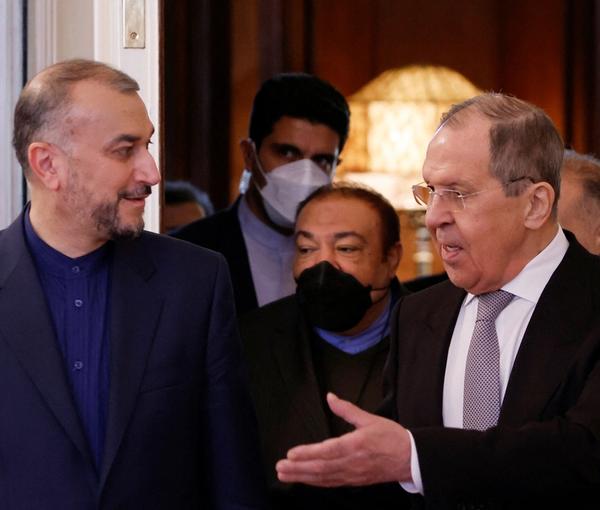 Iranian Experts Concerned About Russia Dragging Iran Into War
Commentators and former officials in Iran are increasingly warning about Tehran's close cooperation with Moscow and its impact on the country's isolation.
Former head of Iranian parliament's National Security and Foreign Policy Committee Heshmatollah Falahatpish told local media: "If it were not for the issue of sending Iranian drones to Russia to be used in the war in Ukraine, Europe was highly unlikely to ratify a resolution against Iran."
Falahatpisheh, who is one of the few domestic critics still allowed to speak to print media, further said he is worried that Iran might become the second front in Russia's war against Ukraine.
The conservative pundit explained that Europe and the United States had agreed [in March 2022] on two matters – Iran upholding its nuclear commitments and the West reducing sanctions imposed, but at the last moment Russian negotiator Mikhail Ulyanov said that Russia cannot take part in implementing the agreement because of US sanctions on Moscow.
"Later Russian Foreign Minister Sergey Lavrov said that Russia would sign the agreement only if all of Russia's nuclear, trade, and military dealings with Iran are exempted from the sanctions. This led to an impasse and the talks were suspended," Falahatpisheh said.
Meanwhile, in an interview with moderate proreform Rouydad24 website, Falahatpisheh charged that some Iranian officials behave in a way as if they are paid to speak against Iran's national interests.
Former head of Iranian parliament's National Security and Foreign Policy Committee Heshmatollah Falahatpish
He added that "Statements made by a group of people who have no knowledge of foreign policy have only led to a catalogue of threats against Iran." He was probably referring to individuals such as ultraconservative presidential aide Saeed Jalili and his likeminded allies in the parliament particularly ultraconservative Paydary Party members who staunchly oppose the revival of the 2015 nuclear deal or effectively any agreement with the United States.
Meanwhile, accusing the Islamic Republic of weakening the political elites, Falahatpisheh charged that "Some of Iran's politicians have no proper definition of the government and mainly believe in running the country's affairs like a militia. They have no understanding of the concepts of government, development, international relations, détente, international economy and other political concepts. They do not care what will happen to the next generation of Iranians as a result of Iran's isolation. And that is dangerous."
Falahatpisheh argued that many of the sanctions against Iran are the outcome of such a political approach. "While Iran owns two third of the Persian Gulf waterways and it should naturally attach high importance to the waterway's security, some members of parliament and others threaten to close the Strait of Hormuz. The current situation of Iran and its isolation is a legacy of this kind of grandstanding."
He also said that measures such as sending drones to Russia leads to the IRGC being listed as a terrorist organization in the West rather than the Russian army.
In a related development, Ahmad Bakhshayesh, another former member of parliament's National Security and Foreign Policy Committee said in similar remarks that "The Iranian government believes creating a foreign enemy will lead to solidarity inside the country."
Referring to the recent drone attack on a military installation in Esfahan, Bakhshayesh said: "Benjamin Netanyahu creates foreign crises as a way of dealing with political divisions inside Israel." Meanwhile, he charged that "the attack was done by Israel from the Republic of Azerbaijan as part of Israel's confrontation with Iran as a country that harasses Israel by its presence in the Golan Heights and its support of the Lebanese Hizballah."
Bakhshayesh added that Iran has recently armed [its proxy groups] in the West Bank, in an area only 15 kilometers away from Israel. He characterized this action as "creating permanent tension" in that region.